Veterinary Emergency & Specialty Hospital of Wichita
Veterinary Emergency & Specialty Hospital of Wichita offers the highest level of specialized and round-the-clock emergency care, delivering compassionate treatment tailored to both clients and their beloved pets. Veterinary Emergency & Specialty Hospital of Wichita is one of the Three Best Rated® Veterinary Clinics in Wichita, KS.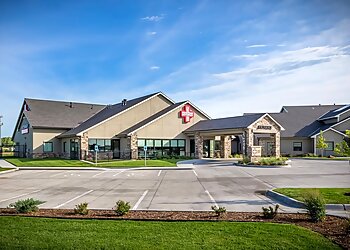 Their dedicated practitioners employ advanced veterinary diagnostics and services to ensure the well-being of your pets. They serve as an extension of the services provided by your pet's primary care veterinarian, working together to provide optimal care for your furry companion. With their specialized facilities and equipment, they are fully prepared to address the unique needs of your pets. Their primary objective is to deliver emergency and intensive care for sick or injured pets, prioritizing their well-being. Additionally, they provide specialty surgical care and dentistry/oral surgery by appointment on weekdays. Moreover, they offer emergency and overnight nursing care, ensuring continuous care on weekends and major holidays. If required for your animal's treatment, CT scans are available to aid in diagnosis and treatment planning.
Surgery

Dentistry

Radiology

Soft Tissue

Abdominal

Thoracic and Orthopedic Surgeries

Medicine and Pharmacology

Acupuncture

Rehabilitation

Massage

Laser

Brachycephalic Syndrome- Nasal Wedge Resection

Excision of Everted Laryngeal Ventricles

Soft Palate Resection

Teca-Total Ear Canal Ablation

Fho-Femoral Head & Neck Ostectomy
We can not THANK YOU enough for Everything you did to help our Baby Alice! You showed more Concern, Care, and Compassion in seconds and the entire 40 min we were in your clinic, then the Vet I been going to for 33 years did in the Hours we were at their place. Your entire Staff were so respectful, honest, and upfront right from the second we arrived! NOTHING else mattered to you then her Care and Comfort. I HIGHLY RECOMMEND THIS PLACE FOR ANY EMERGENCIES. THANK YOU AGAIN!
This place displayed so much compassion and professional friendly service to me when I was in a panic rushing my dog to them. We didn't know at the time but later when I transferred to another vet we found out my dog had severe pancreatitis. Before the diagnosis the doctor and nurses helps my dog receive care throughout the night and got him to be as comfortable as he could be and they helped inform me while I was barely holding it together. I recommend this location, they were amazing. He overcame and he got to become a big brother this Holiday season! (He looks sooooo happy lol).
I'm an ER nurse and my husband is a flight paramedic. We are no stranger to medical emergencies. Then our fur baby had seizures tonight and we didn't know what to do. We were scared and shaken. We brought her here and the staff was amazing. They immediately brought her back and got her taken care of. She is admitted for the night and the staff has been sending pictures and updates frequently. We cannot thank you guys enough for your patience and kindness! I know our fur baby is in excellent hands.
Nearby Veterinary Clinics in Wichita: