Circle City Web Design
Circle City Web Design offers a comprehensive solution for all your web design, development, and hosting needs. Circle City Web Design is one of the Three Best Rated® Web Designers in Indianapolis, IN.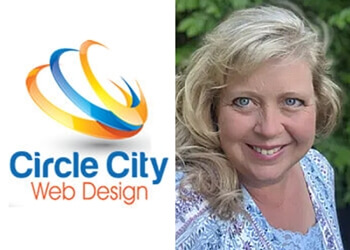 Founded by Heather Simpson, a seasoned professional with over 20 years of experience in creating websites and providing excellent solutions for small businesses and non-profit organizations. The team at Circle City Web Design consists of highly skilled and experienced developers, designers, and technicians who possess extensive knowledge in the web design industry. Drawing from over 30 years of experience, Circle City Web Design understands the key elements required to establish a strong web presence. Its approach is research-driven, focusing on strategic planning to ensure there are no random guesses in the process. Instead, it aims to deeply comprehend your business goals, allowing them to target the appropriate audience and demographic engagement. With a track record of over 30 years and having built more than 200 websites, it prioritizes customer satisfaction, ensuring every client's needs are met. Its visually appealing website designs and effective SEO digital marketing strategies help clients connect with their target audience and leave a lasting impression. Additionally, Circle City Web Design offers free consultations on its range of services, enabling you to explore its expertise and find the best solution for your business.
WordPress

Designing

Developing

Redesigning

Hosting

Website Maintenance

Content Management System

ECommerce

Support

SEO Digital Marketing

Security Monitoring & Plugin Updates
Heather did a fantastic job designing and implementing our new website. She greatly surpassed our expectations and was always available through the entire process. We could not be happier with the final product and have received numerous comments about its very professional look and how well the website is designed. We strongly recommend Circle City Web Design.
We are very pleased with the professional website Heather and Circle City Web Design have created for us. Heather led us through the process quickly and easily making our experience enjoyable and uncomplicated. Glad to have found Heather and Circle City Web Design!
So thankful for Heather and CC Web Design team!! She designed our company website and We LOVE it!! If you're looking for a web designer give Circle City Web Design team a call. You won't regret it!!!
Wordpress Maintenance, Word Press Support & Hosting:
Non-Profit $40/monthly
Pro $60/monthly

Mon-Fri: 9am - 5pm
Sat & Sun: Closed
Nearby Web Designers in Indianapolis: