NEXTFLY Web Design
NEXTFLY Web Design is a reputable web design service based in Indianapolis, boasting an impressive 17 years of experience in creating visually captivating and professional websites for their clients. NEXTFLY Web Design is one of the Three Best Rated® Web Designers in Indianapolis, IN.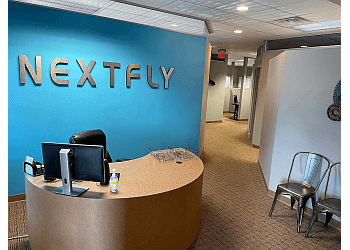 Their primary objective is to offer small to medium-sized businesses the opportunity to establish a robust online presence at a fraction of the cost. Boasting a collective experience of more than 30 years in digital marketing and website design, their team comprises certified SEO specialists who guarantee the discoverability of your online presence by search engines. They take immense pride in the strong relationships they build with their customers, partnering with companies to establish and maintain an online presence that effectively caters to evolving needs and search engine algorithms. NEXTFLY Web Design keeps up with trending technologies to build cutting-edge websites that align with industry standards. They also provide exceptional custom designs on popular Content Management Systems (CMS) platforms. With a remarkable portfolio of over 1000 websites built over the years, NEXTFLY works around the clock to ensure that your website is completed in a timely manner, aligning with your business's specific requirements. Upon deployment, they offer comprehensive training sessions lasting up to 2 hours to ensure you can easily access and manage your site. Additionally, NEXTFLY Web Design has a branch location in Goodyear, AZ, expanding their services to a wider clientele.
Website Design and Development

Mobile Sites

Digital Marketing

Content Management Systems

Logo Design

WordPress

Local SEO

E-Commerce

Content

Blog Writing

Search Engine Optimization & Web Hosting
I am always impressed and appreciative of the service and performance of NextFly. We use a basic website created by NextFly. NextFly replies and performs as if we were a large user of services. Never any problems with the site or with hosting. They are prompt and accurate in answers to our questions and requests.....Example: Saturday morning, I discovered our website was replaced by a page from Turbify stating "new web site forthcoming". I made no request for this and was greatly concerned. Contacted Matt Clarke Saturday morning. Within hours, Matt contacted me and totally understood the changes by Turbify. Matt clearly explained Turbify's changes and how he/NextFly would correct it. From my initial e-mail of disaster to web site returned, was only a matter of hours. Again, this was on a Saturday and required only account sign-in info from me.
I came to them with a grand idea about our new site and they jumped in with both feet. The site(s) came out perfect, and their entire team impressed our organization from inception to completion. Our relationship has been on going for several years now and they are definitely at the top of my most trusted vendor list. They are fair priced and always have our best interest in mind. I cannot recommend them enough.
We have had a wonderful working relationship with Nextfly for 10 years. They are knowledgeable, efficient, and trustworthy. They helped us to create a website from scratch and have continued to service our site ever since. Please do yourself and your business a favor by choosing Nextfly for your next web design!
Mon-Fri: 9am - 5pm
Sat & Sun: Closed
Nearby Web Designers in Indianapolis: