Bridal Connection
Bridal Connection at Stone Oak is a family-owned business and has over 25 years of experience. Bridal Connection is one of the Three Best Rated® Bridal Shops in San Antonio, TX.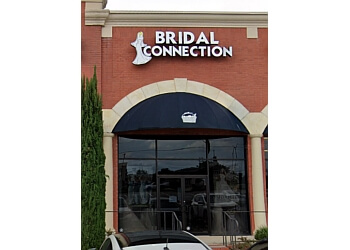 The owner of the bridal shop is Roman & Rafaela. Their outstanding service, styles and pricing, brides fly in from all over the country to purchase their beautiful gowns from them. Bridal Connection's mission is to create a beautiful, memorable, stress-free experience for their brides. They can service the budget-conscious bride as well as the couture bride with prices ranging from $300 to $6000. They carry gorgeous wedding dresses from top designers such as Randy Fenoli Bridal from "Say Yes to the Dress" fame and is San Antonio's exclusive retailer, Nicole Milano, Mori Lee & Christina Wu Destination gowns. They have hundreds of styles in their boutique to choose from and try on and hundreds more available.
Mother of The Bride

Bridesmaids

Flower Girl

Adriana Alier

Luna Novias

Martha Blang by Rosa Clara

Randy Fenoli

Madeline Gardner

Morilee

Christina Wu Celebrations

Designer Bridal Gowns

Jewelry

Slippers

Wedding Gowns

Accessories & Veils
Bridal Connection has been such a great experience! My soon to be daughter in law has been wedding dress shopping all week long at tons of different places and this is where she found the ONE!! They had a large selection of the styles she wanted and one employee in particular was so helpful! Her name is Valerie and she was super insightful and gave a ton of really helpful advice and was super friendly! An overall great place to look for a dress for your special day!!
So let me tell you!!! Our bride came down from waaay west Texas. She bought her dress and everything else from up that way. And her alterations lady left her with a wrinkled dress ON HER WEDDING DAY!!! In a desperate rush to find my bride someone to press her dress, the first person i called was bridal connection and Miss Zoe said, "bring it in NOW!" We rushed the dress to her and she spent the next several hours steaming this dress to perfection! Thank you so much for saving my brides dress on her big day. You are AMAZING!
What a great store. I was able to find the perfect dress thanks to Angelita. Bridal Connection was the very first store I stopped at and immediately I feel in loved with this amazing dress. Angelita was very helpful, she shows me many different option and she was very honest about my reaction to each dress. I didn't buy the dress there, I want to other stores and sellers were rude, they didn't care about my style just about the budget, finally I decided the attention and the dress at Bridal Connection was the one! Thank you for been part of this special day!
Mon-Fri: 11am - 6pm
Sat: 10am - 6pm
Sun: 12pm - 4pm

Other Bridal Shops in San Antonio: