uBreakiFix Aurora
uBreakiFix Aurora is a customer-centric cell phone repair establishment dedicated to delivering swift and top-notch repair solutions. uBreakiFix Aurora is one of the Three Best Rated® Cell Phone Repair in Aurora, CO.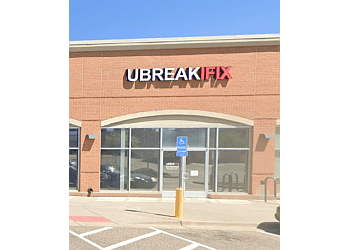 Their team consists of highly skilled and seasoned technicians who are experts in their field. uBreakiFix takes pride in offering efficient, cost-effective, and rapid services. They specialize in repairing a range of devices, including Apple iPhones, Samsung Galaxies, Google Pixels, iPads, and more. When it comes to electronic repairs, they prioritize the use of premium components, often sourced directly from the original manufacturer, ensuring your device functions flawlessly and feels like new again. Most phone issues are resolved within a single day at their facility. Additionally, the company stands by its workmanship, offering a one-year warranty on all repair services, and they also extend complimentary diagnostic evaluations to their clients. For the speediest repair service in the vicinity, consider visiting uBreakiFix.
Samsung Galaxy

iPhone

Mobile Unlocking

Water Damage Diagnostic and Repair Services

Home Button/Power Button Issue

iPad and Computer Repair

Screen Replacement

Glass

Battery

LCD Replacement Services & Phone Flashing Issue
Great experience. Was directed here for my screen repair insurance claim on my Samsung S21 Ultra and it was so easy! The staff was very friendly and helpful and the phone looks brand new basically! They quoted me about 2 hours after walking in and it was done right on time. Highly recommended.
iPhone 14 Pro Max fell off my Harley at 65mph in a OtterBox case and got ran over. Brought it in to UBreakiFix and they had a new screen put in in less than 2 hours and my phone still works 100%! I would do business again.
Outstanding service! These guys helped me out quickly without throwing unnecessary labor time and charges at me. Highly recommend and will be back for any service needs.
Mon-Fri: 10am - 6pm
Sat & Sun: Closed
Nearby Cell Phone Repair in Aurora: