CASPICOM Computer Repair Services
CASPICOM Computer Repair Services (formerly VA Denver Computer Services) is an experienced, locally owned, and operated IT company. CASPICOM Computer Repair Services is one of the Three Best Rated® Computer Repair in Aurora, CO.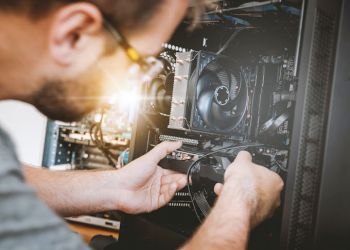 Vasif is the senior technician in the shop. Caspicom Computer Repair Services specializes in PC and laptop repair and support for small companies and individuals in Aurora and Denver Metro Area, Colorado. If you are having PC / laptop issues or you're thinking about upgrading to the latest hardware or software, Caspicom is the right place. They offer customized, affordable services tailored to meet your individual needs. Caspicom's IT experts offer on-site service and cost-effective, practical solutions for all laptop and PC brands. Caspicom Computer Repair Services is dedicated to providing the best computer service to you. When your Laptop, PC, or Mac needs repairing, you won't have to worry for long. Their technicians are skilled in dealing with all computers and gadgets whether you need home or business computer repairs. They provide on-site services.
Computer and PC Repair

Laptop

MAC Repair

Data Back-Up

Recovery

Malware and Virus Removal

Software Installation

Hardware Updates

Custom Built Computers

Power Jack Repair

Network Services & Screen Replacement
Vasif was very prompt, personable, professional and super helpful in helping us migrate a lot of data from our old computer to our new computer. We were particularly eager to get this done since we had tax info that needed to be moved in order to begin work on taxes for 2021. Honestly, Vasif was the answer to everything I had hoped for. I had called him yesterday afternoon and had an appointment this morning - and it's all done. Thank you Vasif!
Vasif was very friendly, prompt, professional, honest and helpful! had my problem fixed in less than 24 hours! Cannot recommended his business enough and I will be going back to him any time I have computer problems in the future. Thanks for the great work!
Amazing tech support for my computer issue! Was able to figure out my problem over the phone within 5 minutes what two other companies couldn't after fix two hours. Highly recommend and will be returning for any and all future needs.
Business & Residential Tech Support - $100/hr
Mon-Fri: 9am-7pm
Sat: 10am - 5pm
Sun: Closed
Other Computer Repair in Aurora: