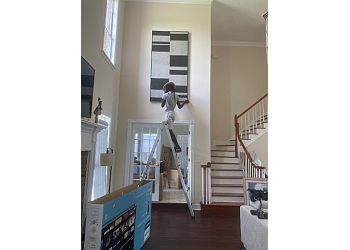 DJ And Sons At Your Service specialize in providing courteous service to its clients. It is a unique company in the market as its experience cuts across disciplines. They are ready to bring that knowledge and experience to your next job. Their technicians are clean, professional, polite, and provide prompt service to their customers. Their commitment to providing high-quality customer service at an affordable price. DJ And Sons At Your Service also specialize in painting, renovations, small repairs, and all assembling. Give them a call for an appointment and questions.
Specialty:
Painting, Appliance Installation, Mounting, Tv Mounting, Moving and Hauling, Car wash and Detailing & Lawn Care
$Price:
DJ And Sons Mounting Services
$80 anything under 40 inches
$85 42 inches to 55 inches
$90 60 inches to 75 inches
$100 anything bigger than 75 inches.
Cords and wires hidden extension cord included.

$15 off if clients have mount. $25 Hand Car Wash and Shine
$50 Car Wash and Detailing
$140 Wash Shine Detailing and Shampooing $30 Hand SUV Wash and Shine
$60 Small SUV Wash and Detail
$160 Small SUV Wash Shine
Detailing and Shampooing $35 Trucks and 3 Row Suvs
$75 Truck Wash and Detailing
$200 Truck Wash Shine Detailing and Shampooing

Contact:
Working Hours:
TBR® Inspection Report: