Pinewood Landscaping Design & Build
Pinewood Landscaping Design & Build is a professionally run landscaping business in Long Beach, CA. Pinewood Landscaping Design & Build is one of the Three Best Rated® Landscaping Companies in Long Beach, CA.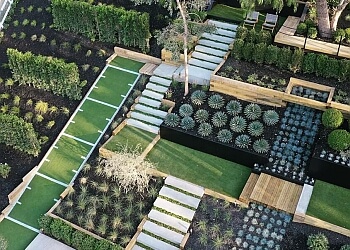 The company's well-trained workers have extensive knowledge and experience in landscaping design and construction field work. They will design and build their customer's outdoor spaces to their dreamable lifestyles. Pinewood Landscape Design & Build's fast-paced, acquainted, and skilled crew has made them the most recommended for landscape design and build. They are dedicated to constructing their customer's vision on schedule and within budget. They know how much their customers love their homes, and with their help, they can help their customers to make the finest outcomes of their outdoor properties to enjoy it all year long and at any time. In addition, they also provide low-rate financing with flexible monthly payments.
Driveway

Install and Drainage Repair

Patio Design

Lighting

Fertilizer

Fire Pits

Drainage

Decorative Walls

Artificial Turf

Irrigation

Boulders or Stones

Installation

Plant Flower Beds

Patio

Outdoor Repairing

Sprinklers

Stump Removal

Replace Plants

Lawn Care

Retaining Wall & Walkaway
There are not enough descriptive words to describe how pleased we are with the work provided my Pinewood. They are hard workers who take pride in the work they provide. I barely had to explain what we were looking for. The ran with our initial idea and the final product was beyond our expectations. Marcos and Robert were easy to work with and their crew were always respectful of our property.
They did a great job removing and installing sod in our back yard. They even took the extra time to cut in the sod around many stepping stones, and insured that the gate operated properly. Truly a job well done.
Robert from Pinewood was pleasant to work with on this landscape upgrade. He and his team did an awesome job with this project. Final result was fantastic. Will suggest to call him for a quote 1st.
Other Landscaping Companies in Long Beach: