Dolce Electric Co.
Dolce Electric Co. Dolce Electric Co. is one of the Three Best Rated® Electricians in Mesa, AZ.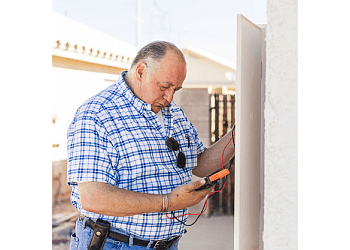 is a locally owned and operated electrical service provider in Mesa, is committed to meeting all your electrical needs. With licensed and bonded electricians, they ensure professional and reliable service. The company boasts a team with extensive experience and skill in various electrical repair and installation services. Whether it's a residential project or commercial electrical work, Dolce Electric Co. has the expertise to deliver exceptional results at an affordable price. Their specialization extends to residential remodel services, providing comprehensive electrical solutions to transform your living space. Additionally, they prioritize safety by offering the installation of GFCI (Ground Fault Circuit Interrupter) or AFCI (Arc Fault Circuit Interrupter) outlets, which protect your home and loved ones from the risks of shock, electrocution, and fire hazards. Dolce Electric Co. goes the extra mile to ensure customer satisfaction. They provide free home electrical safety inspections to identify any potential issues and offer peace of mind. Free estimates are also available, allowing you to plan your electrical projects with transparency. To demonstrate their commitment to quality, Dolce Electric Co. offers lifetime parts and labor guarantees, providing you with added assurance and protection for your investment. Additionally, their 24/7 availability for emergency services ensures prompt assistance during critical situations.
Landscape Lighting Repair

Electric Grounding

Circuit Breaker Replacement

Lighting Installation

GFCI Outlets

Whole House Surge Protection

Cloth Covered Wiring & Main Circuit Breaker Replacement
Tony at Dolce Electric is fantastic! He's our go-to electrician. When our lights were flickering, he came out and replaced all of the old, broken switches in our electrical box (before and after pics attached). He also installed a whole-house surge protector to help us with protecting our electronics. This week he came over to help us fix the broken and improperly installed wire boxes in our kitchen during our kitchen renovation. Tony is a great communicator and takes the time to explain everything he's finding in your house. We highly recommend him!
This was my first appointment and Tony really took his time discussing the options for my repair and making sure I felt well informed. He got everything done very quickly. I found him and the rest of the company to be very honest and knowledgeable. I truly enjoyed working with them. They were able to get everything done the same day and for a very fair price. I honestly don't think I could have had a better experience. Dolce Electric Co is the best.
Tony from Dolce Electric was awesome. He quickly installed the new outlets I needed and I got a great price for the work. He made everything look easy and was done in no time at all. I was very impressed. I highly recommend using this company if you have any repairs or installations you need done. They are awesome and very cost effective.
Mon-Fri: 8am - 5pm
Sat & Sun: 8am - 3pm
Nearby Electricians in Mesa: