RSB Electrical Inc Electrician
RSB Electrical Inc Electrician is a reputable and dependable electrical service provider located in Mesa. RSB Electrical Inc Electrician is one of the Three Best Rated® Electricians in Mesa, AZ.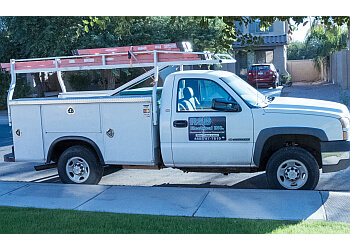 As a licensed and insured company, they prioritize safety and compliance in all their operations. Their belief in delivering cost-effective and timely installations of secure electrical systems is the foundation of their commitment to customer satisfaction. With their extensive experience and knowledge, RSB Electrical Inc Electrician guarantees prompt and high-quality workmanship at competitive prices. Whether it's a residential or commercial project, they are dedicated to meeting their customers' electrical needs with excellence. Their comprehensive range of services encompasses small-scale residential projects to large-scale commercial electrical jobs. From installing fluorescent ballasts to handling tenant improvements and maintenance agreements, RSB Electrical Inc Electrician has the expertise to tackle diverse requirements. Scheduling an appointment with RSB Electrical Inc Electrician is convenient and hassle-free, as they offer online booking options or can be contacted by phone. Additionally, they provide 24/7 emergency service to address urgent electrical issues promptly and efficiently.
Residential and Commercial Services

Retail Outlets and Hospitals Service

Repair and Installation

Decorative Outdoor Lighting and Ceiling Fan Installation

Remodeling

Medical Centers & Simple Electrical Upgrades
Great place to call if you need any electrical work done. Quick, fair, and honest about everything. Everyone I talked to was very knowledgeable and professional. I would highly recommend giving them a call for any electrician needs.
Enjoyed talking with Reno about the estimate. The guy that did the work was very nice and professional. Got the job done and it came in UNDER the estimate! Would recommend.
I was very pleased with the services of the technician, Chase. He explained to me what was wrong and made sure that everything was up to code. Highly recommend RSB!
Nearby Electricians in Mesa: