Hand & Stone Massage and Facial Spa
Hand & Stone Massage and Facial Spa Charlotte is a distinguished massage spa that prioritizes delivering exceptional therapies and treatments to its esteemed clientele. Hand & Stone Massage and Facial Spa is one of the Three Best Rated® Massage Therapy in Charlotte, NC.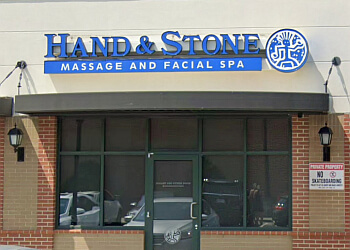 Their team of skilled therapists offers a comprehensive range of specialty massages, facials, and enhancements to cater to every individual's needs. At Hand & Stone Massage and Facial Spa Charlotte, they prioritize the use of organic products to ensure the highest quality service and the well-being of their clients. Their experienced professionals are committed to meeting and exceeding customer expectations, providing a soothing and rejuvenating experience. One of the key aspects of Hand & Stone Massage and Facial Spa Charlotte is their commitment to making professional spa experiences accessible to all. They offer their world-class services at affordable prices, with convenient availability seven days a week. Additionally, they provide membership programs, gift certificates, and express facial treatments to enhance the overall spa experience for their clients. Hand & Stone Massage and Facial Spa Charlotte also extend introductory offers for their signature services. These include one-hour* Swedish Massage, Classic (or Teens/Men's) Facial, or Hot Stone Massage. These introductory offers allow clients to explore and enjoy the benefits of their services at a special rate. With their dedication to customer satisfaction, premium treatments, and accessible pricing options, Hand & Stone Massage and Facial Spa Charlotte strive to create a truly remarkable spa experience for each and every guest.
Massage: Swedish

Couples

Sports and Hot Stone

Pre-Natal and Deep Tissue Massages

Classic

Men's

Teen

Rejuvenating

Glycolic and Salicylic

and Lactic Peels

Sensitive Skin and Rosacea Facials

Detox Facial

Microdermabrasion

Hair Removal & Trigger Point Therapy
My facial was amazing! I had some skin problems before I went, my skin cleared up so nice and it looks super fresh and clean. I'd definitely recommend getting a facial at Hand and Stone Massage and Facial Spa. I also got a very warm welcome by the employees and I felt really comfortable talking with them. I will visit again in the future.
You have to get a diamondglow facial with Ran!! She is absolutely THE BEST! You will love everything about the service. The front desk staff, Kim and Keanca were top notch. Five stars all the way around.
Love the staff here! Everyone is so friendly and the place is great. Have the membership and go for a massage every month.
1 Hour Massage $69.95
1 Hour Facial $69.95
1 Hour Hot Stone Massage $89.95
1 Hour Couples Massage $99.95 (Per Person)
Swedish Massage 1 Hour $109.95
Hot Stone Massage 1 Hour $129.95
Himalayan Salt Stone Massage 1 Hour $139.95
Mon-Fri: 9am - 10pm
Sat: 9am - 8pm
Sun: 10am - 8pm
Nearby Massage Therapy in Charlotte: