Aunt Chiladas Squaw Peak
Aunt Chiladas Squaw Peak stands out as a timeless and refined Mexican restaurant located in Phoenix, AZ. Aunt Chiladas Squaw Peak is one of the Three Best Rated® Mexican Restaurants in Phoenix, AZ.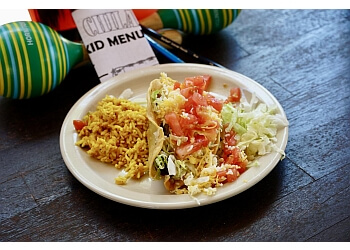 Their menu presents an array of authentic Mexican dishes, including tacos, burritos, fajitas, and more, all prepared with top-notch ingredients. The establishment also features a well-stocked bar for your enjoyment. For any event, Aunt Chilada's in Phoenix, Arizona, serves as the ideal banquet venue. With delightful patios and spacious dining rooms, your guests will undoubtedly relish the distinctive atmosphere of one of the city's most historic restaurants. They accommodate groups of all sizes, boasting 650 seats and providing the services of an event coordinator to ensure a seamless and hassle-free planning experience. To ensure your comfort, table reservations are available. Additionally, Aunt Chiladas Squaw Peak provides catering services for your special events and parties. Dog owners are welcome to bring their furry friends along. The restaurant offers various conveniences such as street parking, private lot parking, free Wi-Fi, and enticing happy hour specials. Whether you prefer dining in or curbside pickup, the choice is yours. The Original Aunt Chilada's is located in the picturesque vicinity of Squaw Peak, with its charming setting just off 16th Street, between Northern and Glendale.
MENU: Nachos

Mini Chimis

Carne Asada Fries

Queso Dip

Chingalingas

Vegetable and Traditional Burritos

Chimichangas

Quesadillas

Mini

Fish and Shrimp Tacos

Tostadas

Shrimp or Fish Fajitas

Seafood Enchiladas

Super Taquitos

Tamales

Taco and Mexican Cobb Salads & Desserts
I had saved this place on my want to go places on Google maps , glad I did. The ambiance was wonderful outside. It's outside area for sitting is huge. The service was very good and food came out fast , I went on a Saturday afternoon. I ordered my food , it came within 15 minutes. I will definitely be back again!
This place is perfect for when the weather is not super hot outside. The outdoor atmosphere is great for any occasion. Ordered Chicken and Steak Fajitas and was very pleased. Would recommend and visit again.
Such a beautiful expression and place I have never visited in my life.
BOTANAS
Cheese Crisp $9.50
Nachos $13
Mini Chimis $18
Carne Asada Fries $18
FAJITAS
Vegan Fajitas $20
Jalapeno Steak Fajitas $20
Shrimp or Fish Fajitas $23
BURRITOS
Bean & Cheese $14
Vegetable $16
Traditional $17
Spinach & Chicken $18
QUESADILLAS
Quesadilla $9.50
Seafood Quesadilla $18
TACOS & TOSTADAS
Mini Tacos $15
Fish Tacos $18
Deconstructed Street Tacos $19
ESPECIALES DE LA CASA
Super Taquitos $19
Shrimp Tamale $19
Seafood Enchiladas $21
ENSALADAS
Jalapeno Ranch Salad $10
Taco Salad $18
DESSERTS
Deep-Fried Ice Cream $9
Churros Classico $9
Tres Leches Cake $12
Mon-Thu: 11am - 9pm
Fri: 11am - 10pm
Sat: 10am - 10pm
Sun: 10am - 9pm
Nearby Mexican Restaurants in Phoenix: