Popo's Fiesta Del Sol Mexican Food
Popo's Fiesta Del Sol Mexican Food is a trendy and popular Mexican restaurant known for its vibrant atmosphere, delicious Mexican favorites, refreshing margaritas, and enticing all-you-can-eat specials. Popo's Fiesta Del Sol Mexican Food is one of the Three Best Rated® Mexican Restaurants in Phoenix, AZ.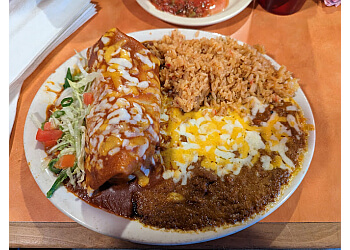 The restaurant has become a beloved landmark for Mexican cuisine in Phoenix. The dedicated and skilled staff at Popo's Fiesta Del Sol are committed to providing exceptional service and ensuring your satisfaction. With a diverse menu that ranges from appetizers to tacos, they have something unique to satisfy every palate. Additionally, you have the opportunity to create your own party tray, adding a personalized touch to your dining experience. They are well-equipped to cater to various occasions such as parties and wedding receptions. Don't forget to indulge in their delightful fried ice cream, which can be topped with chocolate or strawberries and whipped cream. For added convenience, they offer catering services for your special events and functions. The restaurant provides private lot parking and wheelchair access, ensuring ease of accessibility. Happy hour specials are also available for guests to enjoy. Popo's Fiesta Del Sol has another location in Arrowhead. If you're looking for a great gift idea, they offer gift cards at fair prices.
MENU: SOUPS and SALADS: Albondigas

Chicken Tortilla Soup

Menudo

Mexicana

Santa Fe Salad

Salad Dressings

Fajita Salad

FAJITAS and CHIMICHANGAS: Chimichangas

Chimichanga Dinner

Fajitas

POPO'S SPECIALTIES: Grilled Tacos

Corona Battered Fish Burrito

Spinach and Seafood Enchiladas

Carnitas & El Pollo Especial Muy Rico
This was my first visit to Phoenix, and I had the opportunity to stop in. The food here is amazing. The portions are outrageous. You will have leftovers. The servers are great. You can definitely feel the family love from the host to the wait staff to the taste of the food. If you're near, take time and stop in.
Hadn't been here in a while, and this was the first time to dine in. This place is amazing! Had been craving tacos and Popos did not disappoint. So filling and delicious. Fast friendly service, atmosphere was great, will definitely be back!!
Food is always good here Service is fast and friendly I eat here often !!
FAJITAS
Veggie Fajitas $17.80
Carnitas, Chicken or Steak $21.20
Shrimp Fajitas $24.95
CHIMICHANGAS
Steak or Chicken Fajita, Carne Asada or Carnitas $16.35
Shrimp $18.10
POPO'S SPECIALTIES
Grilled Tacos $20.75
Fiesta $19.95
Taco Grande $15.75
Carnitas $19.30
A LA CARTE
TACOS
Tacos $5.80
Carne Asada $12.95
Shrimp $12.95
BURRITOS
Bean and Cheese $6.45
Fajita Burro $11.65
Carne Asdada $11.25
TOSTADAS
Bean and Cheese $5.60
Tamales $7.60
ENCHILADAS
Cheese and Onion $6.40
Chicken, Machaca, Ground Beef $8.10
Spinach and Cheese $6.60
KIDS MEALS
Beef Taco, Cheese Enchilada, Bean Tostada $8.65
Chicken Strips $8.65
DESSERTS
Fried Ice Cream $6.50
Sopapillas $6.50
Flan $6.50
Nearby Mexican Restaurants in Phoenix: