Valle Luna Mexican Food & Cantinas
Valle Luna Mexican Food & Cantinas, a Mexican restaurant located in Phoenix, AZ, has been serving authentic and high-quality Mexican cuisine since 1983. Valle Luna Mexican Food & Cantinas is one of the Three Best Rated® Mexican Restaurants in Phoenix, AZ.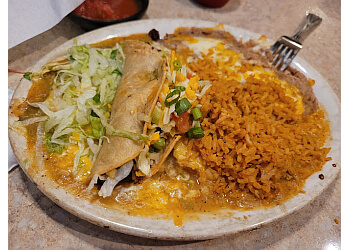 As a family-owned and operated establishment, they pride themselves on offering a welcoming environment and efficient service. Their menu features a variety of classic Mexican dishes such as tacos, burritos, tamales, and more. Additionally, they have a well-stocked bar and provide numerous vegan options. Outdoor seating is available for guests to enjoy their favorite meals in a pleasant setting, making it an ideal location for groups of friends to gather and have a great time. Valle Luna also offers catering services for special events and functions. To enhance convenience, they provide private parking, bike parking, and happy hour specials. Whether you prefer dining in or curbside pickup, both options are available. Furthermore, they offer online gift card purchases, allowing you to save money while enjoying their cuisine. Join them for their special features at Valle Luna Mexican Restaurants. During football season, they offer a morning breakfast menu in their Cantina starting at only $5.00, served from 9 am until 11 am on Sundays. After that, enjoy their Sunday Funday with food and drink specials starting at $3, served from 11 am until closing time in their Cantina. Margarita Monday is another fantastic offer, with 99 cent House Margaritas available all day long—12 oz Frozen or Rocks. Limit of 3 per guest. On Tuesdays, it's Senior Night at Valle Luna Mexican Restaurants from 3 pm until closing time. Wednesdays are Family & Fundido Night! Enjoy a delectable $12.95 Pollo or Pork Fundido Dinner, and kids eat for free. Thursdays are Chimichanga Night, featuring Tia Rita's Famous Chimichanga Dinner for only $12.95! Don't miss their Cantina Happy Hour, available Monday to Friday from 3 pm to 7 pm and on Saturdays from Noon to 6 pm. Valle Luna has additional branches located in the southeast valley and paradise valley.
MENU: Bean and Breakfast Burritos

Tamales

Guacamoles

Spinach and Sonoran Enchiladas

Shrimp Stuffed Poblano Chiles

Baja Fish Taco

Grilled Pollo and Verduras Fajitas

Chimichangas

Toro Tacos

Pollotos

Sonoran Burger

Nachos

Chicken Wings

Homeade Dips & Chips
We stopped in at Valle Luna in phx Az a Mexican food Restaurant. I ordered the 2 cheese Enchiladas ,rice,beans & taco .plus a drink.we was given chips and 2 kinds salsa,was delicious. Atmosphere was Comfortable, not to many people eating near us,as we arrived 2 tables with customers leaving.we food was delicious, fulfilling, only thing is the waitress was very busy, took awhile for her to check up on us. I'll definitely returning.
I have been going to Valle Luna for the past 25 years! My family and friends love meeting at this restaurant. We always had decent experiences with the staff and our food has always been cooked to order. Their hot sauce is amazing!!
The absolutely BEST Mexican restaurant in the state!!! My family has been going here for 40 years!

Awesome service. We had a retirement party and we ordered the food from Valle Luna. Everything was perfect. Marcy was extremely helpful when ordering. When the food got here OMG there was more than enough food and everything was perfect. Everyone and I mean everyone liked the food. So thank you Valle Luna for doing such an awesome job. We will definitely use you again - Becci
LUNA CLASSICS
Mini Taco Basket $12.95
Bandido burros $11.50
Sonora todo $11.50
TIA RITA'S FAVORITES
Chimichanga Dinners $15.50
Spinach Enchilada Dinner $14.50
Tamale Dinner $14.95
SPECIALITIES DE LUNA
Quesadilla Extravaganza $15.95
Enchiladas $15.95
FROM THE SEA
Shrimp Stuffed Poblano Chiles $16.95
Baja fish Taco Dinner $13.95
Enchiladas $16.95
Tacos - Grilled Shrimp Diners $16.95
PLATOS AMERICANOS
Pollitos $11.50
Sonoran Burger $13.50
BURRITOS
Bean Burrito $7.50
Asada Burrito $9.50
KIDS MENU
Border Burros $5.95
Pollitos $5.95
Toro Tacos $5.95
APERITIVOS
Luna Cheese Crisp $7.95
Chicken Wings - Luna's famous Wings $7.50
Nachos Fiesta $13.95
HOMEMADE DIPS
Spinach Con Queso $7.50
Trio Dip $10.95
Guacamole Boat $6.50
SOUPS AND ENSALADAS
Luna Burrito Bowl $11.95
Taco Salad $11.95
Chicken Caesar Salad $12.95
Mon-Thu, Sat & Sun: 11am - 10pm
Fri: 11am - 11pm
Nearby Mexican Restaurants in Phoenix: