Crestwood Music Education Center
Crestwood Music Education Center provides customized individual lessons for various instruments to a diverse student body of over 600 individuals, ranging from toddlers to professionals. Crestwood Music Education Center is one of the Three Best Rated® Music Schools in Yonkers, NY.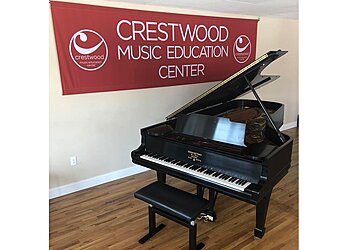 They welcome students of all ages and levels, from beginner to advanced. The school's ethos is cultivating a positive and stimulating atmosphere that fosters each student's creativity and self-expression. Their mission is to deliver the highest quality and most meaningful music education, encouraging the development of imagination, creativity, intellect, and humanity through this beautiful art form. The academy also offers a make-up lesson for one absence per student each semester, scheduled during a designated make-up week at the end of the semester. Crestwood Music Education Center also provides instrument rental services and is conveniently situated 11.5 miles from downtown Yonkers.
Flute

Clarinet

Saxophone

Bassoon

Oboe

Trumpet

Trombone

Baritone

Tuba

French Horn

Drum Set

Percussion

Recorder

Voice

Suzuki Lessons

Musikgarten Classes for Toddlers

Preschoolers

Music Theory

Sight Reading

Chamber Music

Piano

Acoustic and Electric Guitar

Violin

Viola

Cello

Double & Bass
Crestwood Music school is in Eastchester. Very professional yet with individualistic teaching methods. Dr. Cano selected a wonderful piano teacher for us, David Tsang who teaches our child to develop discipline and with the sensitivity to feel and love the music. We are very happy.
My three kids have been taking lessons here for a couple of years now. They are in wonderful hands! Teachers here are spectacular musicians in their own right as well as patient, inspiring instructors to kids of all ages. We're taking piano, alto saxophone, and guitar--and full disclosure: this mom also had a wild ride taking voice lessons. Dr. Cano is passionate and committed--we appreciate the dedication by all.
My children have been taking lessons at Crestwood Music Education Center since 2006! It has been an amazing educational experience for our family and it is wonderful to watch them grow as young musicians.
Registration Fee: $30.00
30-Minute Sessions: $976
45-Minute Sessions: $1,408
60-Minute Sessions: $1,760
Mon-Wed & Fri: 1pm - 8pm
Thurs: 1pm -7pm
Sat: 10am - 3pm
Sun: Closed
Nearby Music Schools in Yonkers: