High Performance Homes
High-Performance Homes is a locally owned roofing business serving the Vancouver area. High Performance Homes is one of the Three Best Rated® Roofing Contractors in Vancouver, WA.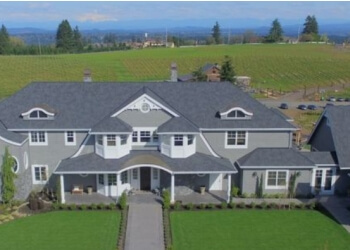 With over eleven years of experience in the roofing industry, they have established themselves as a reliable and trusted service provider. Their team of experienced and certified contractors is dedicated to making the roof replacement process as smooth and hassle-free as possible. They understand that choosing the right roof for your home is an important decision. Their contractors will guide you through the selection process, helping you choose the roof that best suits your needs and preferences. Whether your home is new or older, they provide customized solutions to ensure a perfect fit and optimal performance. The roofing contractors at High-Performance Homes are equipped with professional-grade equipment and leverage their extensive knowledge and skills to deliver outstanding results. They are well-versed in the latest industry standards and techniques, ensuring that your roofing, window, and siding systems are installed or repaired to the highest standards of quality. High-Performance Homes are committed to providing their services at an affordable cost, making quality roofing accessible to homeowners in the Vancouver area. They offer an unparalleled 50-year labor and material warranty, demonstrating their confidence in the durability and longevity of their work. To assist homeowners in making informed decisions, High-Performance Homes offers free quotes. This allows potential customers to get a clear understanding of the costs involved and make an informed choice for their roofing needs. Their certified contractors offer hassle-free roof replacement services and provide customized solutions for both new and older homes. With their commitment to quality, affordable pricing, and an exceptional 50-year warranty, High-Performance Homes is a reliable choice for all your roofing needs. Free quotes are available to help homeowners make informed decisions.
Window

Exterior Siding

Roofing Installation

Roofing Repair

Roofing Replacement

Residential Roofing

Commercial Roofing

Guttering

New & Re-Roof

Serving Location: Corvallis

Eugene

Beaverton

Portland

Salem

Tacoma

Kent

Seattle

Vancouver & Olympia
The moon was promised for this job, so my expectations were high. The PM, Josh, was great at scheduling and communicating a plan and Winston and his install team delivered a great result. We have a standard shingle roof as well as a small flat roof over a patio. All was competed in a professional manner ahead of schedule. We have no rain in the forecast (after a long, wet winter) but I have every expectation that our new roof will keep us dry for years to come.
Josh and Nate were very nice and professional. Explained in detail what type of shingles they offered and the cost of services they offer. We were very satisfied with what they offered. Once we chose the shingles it only took two days to perform the services provided. We couldn't be happier.
The experience started with contacting Josh Weingart for a proposal. This went well as he explained everything that was involved and I had a good grasp on what I was purchasing. After accepting this quote things moved rapidly and after 8 days I had a beautiful new roof just how I wanted it. Unreal experience.
Women Choice Award 2018 & 2022
Mon-Fri: 9am - 5pm
Sat & Sun: Closed
Nearby Roofing Contractors in Vancouver: