Ascension Via Christi Sleep Center on Carriage Parkway
Ascension Via Christi Sleep Center on Carriage Parkway is a highly regarded facility specializing in sleep studies and comprehensive care to enhance sleep quality in Wichita, Kansas. Ascension Via Christi Sleep Center on Carriage Parkway is one of the Three Best Rated® Sleep Clinics in Wichita, KS.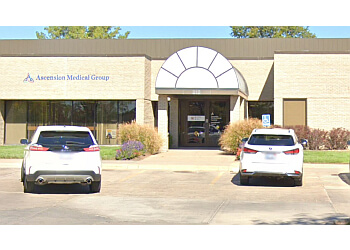 Their team of sleep experts provides compassionate and personalized care across various specialties and programs, catering to the needs of their communities. The center also offers services for continuous positive airway pressure (CPAP) and bi-level positive airway pressure (BiPAP) equipment, supplies, and masks to optimize treatment outcomes. Additionally, their dedicated respiratory therapists are available to address any concerns or issues patients may have with their CPAP equipment, providing ongoing support and guidance. Ascension Via Christi Sleep Center prioritizes patient convenience and flexibility, offering appointments that accommodate individual schedules. They also conduct overnight sleep studies to assess sleep patterns and aid in diagnosis accurately.
Excessive Daytime Sleepiness

Morning Headaches

Depression

Obstructive Sleep Apnea

Insomnia

Circadian Rhythm Sleep Disorders

Sleep Walking and Paralysis

Bruxism

Parasomnia & Narcolepsy
Dr. Hugh Wong has encouraged my husband to continue to wear his CPAP though not his favorite thing. Some adjustments were made yesterday and he slept last night for 8 hours without the bubbling or mask leaking and running out of water in the humidifier!! Thanks, Dr. Wong.
I was very pleased with Ralph , the technician that did my sleep study. He made me feel relaxed and comfortable. He listened to my questions and explained things to me. The atmosphere in the room was almost like home. My husband will soon be having a sleep study and he requested to do it at Carriage Parkway.
I was seen within 5-10 minutes after my arrival for my appointment. A sleep study was set up for the next day. (I'm doing that today) I chose to do it at the clinic instead of home. I was impressed with the care and information given.
Mon-Fri: 8am - 5pm
Sat & Sun: Closed
Overnight Sleep Study: 8pm - 7am
Nearby Sleep Clinics in Wichita: