Broadway Robbinsdale Animal Hospital
Broadway Robbinsdale Animal Hospital stands as one of the prominent Veterinary Clinics in Minneapolis, dedicated to ensuring your pet's well-being. Broadway Robbinsdale Animal Hospital is one of the Three Best Rated® Veterinary Clinics in Minneapolis, MN.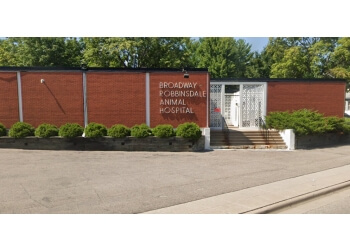 The veterinary team takes pride in creating a welcoming environment while delivering the highest standard of care. They offer a comprehensive range of reliable services, including Preventive medicine, Vaccines, Teeth cleaning, Dentistry, and more. Their expertise spans across various specialty areas, guaranteeing exceptional healthcare for your beloved pets. With a primary focus on providing top-tier veterinary care, they offer services such as pet dental care, spaying and neutering, and microchipping. The knowledgeable staff is committed to equipping you with the necessary information to make the healthiest choices for your pet, ensuring their happiness and longevity.
Vaccines

Diagnostic Medicine

Preventative Care

Vet Surgical and Emergency Care

Spaying

Neutering

Declawing

Abscess Removal

Cleanings & Extractions
All of my pets have gone to Broadway robbinsdale animal hospital. The love that Dr Baker and his staff gives my pets is incredible. Dr Baker has seen my pets on emergencies and made time for them. Highly recommend Broadway robbinsdale animal hospital. It's more than a job for Dr Baker and his staff. It is a passion!!
We've been bringing our pets to Broadway Robbinsdale for over 20 years and have always trusted them to take care of our pets as they would their own. It's a 25 min drive across town for us but worth it.
Great place, great service. Very friendly and inviting staff. My fluffies last moments were very comforting. They allowed me to flush him down the toilet right there. After friends told me that, yes, you can sleep with your pet. It turns out my pet goldfish, named fluffy suffocated andbi rushed him here. I bought fish sticks afterwards as I find eating is a consolation to me.
Mon-Fri: 8am - 5pm
Sat: 9am - 1pm
Sun: Closed

Nearby Veterinary Clinics in Minneapolis: