Lake Harriet Veterinary
Lake Harriet Veterinary Clinic is committed to delivering exceptional integrative veterinary care for your pets. Lake Harriet Veterinary is one of the Three Best Rated® Veterinary Clinics in Minneapolis, MN.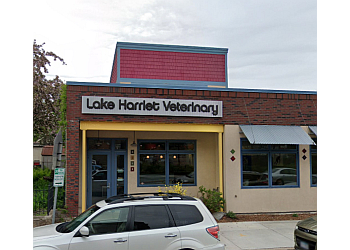 They strive to provide the highest standard of care in a welcoming neighborhood environment. The clinic's staff is dedicated to offering polite and professional service at all times. With a comprehensive range of services, they aim to promote the health and well-being of your pets. Every animal that enters their care is treated with compassion and respect. Utilizing advanced techniques, they are equipped to effectively diagnose and treat various health conditions in pets. Lake Harriet Veterinary Clinic is unwavering in its dedication to providing outstanding services for your beloved companions. They also offer several resources to help you gain a deeper understanding of your pet's needs. The clinic's knowledgeable staff is available to address any questions you may have regarding your pet's health and requirements. To ensure your convenience, they provide appointment facilities, prioritizing the comfort of both you and your pet.
Vaccination/Titers

Western Herbal

Traditional Oriental Medicine

Spinal Manipulation

Therapeutic Laser

Digital Radiology

Ultrasound

Classic Homeopathy

Hospitalization For Critical Care Patients

Medical Aromatherapy

Major Consults

Surgery & Dentistry
We absolutely loved our first visit to the Lake Harriet Vet Clinic! We arrived a bit early, and they started our appointment early. Everyone was so nice and helpful. The vet sat with us for a full 20 minutes providing information and answering our questions. She offered a mix of Western and more holistic/alternative types of care (ex. to handle arthritis, we talked about both pain medication options as well as doggy chiropractic). Very excited to finally feel like we have a vet that partners with us to care for our dog!
So incredibly patient with my overly anxious and fearful little guy. I know just how difficult and frustrating of a patient he can be, so I'm so appreciative of all the extra time and care they take with him. We've been at vets in the past that automatically label him as "aggressive" at the vet, which means they prepare for battle when they see him instead of coming in with compassion for his fears. I don't ever feel like he's been labelled as the "bad dog" here though. There's been so much compassion towards him. I trust the vets here wholeheartedly! I always feel like I'm given the full story of what kind of additional tests or procedures need to be done and what isn't needed. I remember the first time Cosette came in a few years ago and you brought out a towel with Feliway spray on it for her exam. She's a fairly easy going patient, but it was still such a kind thing to do for her first time. Thank you for all you do! :)
Lake Harriet vet has the kindest, most patient, knowledgeable staff of any vet clinic we've had over the 15+ years of having pets. Our dog isn't the easiest patient (dog reactive and anxious around new people) AND he has chronic ear infections due to allergies, which means we're frequent fliers at the clinic. Every interaction (phone calls and visits) the staff make both us humans and our dog feel so cared for. When our dog ended up at an emergency vet clinic over the weekend, Lake Harriet called us Monday morning to check on him. When we've had urgent medical concerns, they work hard to try to fit us in same day. We love Lake Harriet Vet and recommend them to everyone.
Mon-Fri: 8am - 6pm
Sat: 8am - 12pm
Sun: Closed
Nearby Veterinary Clinics in Minneapolis: