Hidden Creek Apartments
Hidden Creek Apartments present residents with a life of leisure, complemented by the convenience of having restaurants, shopping, and entertainment within arm's reach. Hidden Creek Apartments is one of the Three Best Rated® Apartments For Rent in Grand Rapids, MI.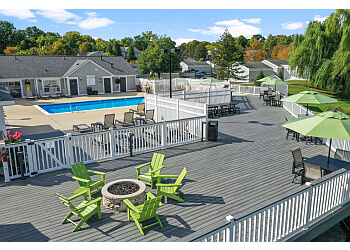 You'll find yourself immersed in the tranquility of beautiful wooded surroundings, all while enjoying their wonderful amenities in the comfort of your home. Moreover, Hidden Creek allows you to explore all the exciting offerings of Grand Rapids. Their spacious floor plans cater to your needs, with 1, 2, and 3-bedroom apartments designed to perfection. Equipped with washer/dryers, large bedrooms, and bathrooms, as well as your own private garage, their apartments offer everything you need for a comfortable living experience. Choose between their classic and upgraded homes to find the perfect fit for your lifestyle at Hidden Creek.
Mirrored Doors

Kitchen Window

Central Air

Private Entry

White on White Appliances

Separate Utility Room

Full-Size Washer/Dryer

Large Walk-in Closet

Linen and walk-in closets

Pantry

Patio/Balcony

Single Car Garage

Stainless Steel Appliances

Track Lighting & Window Seats.
I love everything about this charming property! I actually had my bachelorette party and bridal shower hosted here at the clubhouse just a few months ago, along with the back deck space and it was a great time. Great layout to allow for conversations to occur, but also spaces to tuck away and experience being outside by the poolside. I'm always surprised on how much beautiful nature and quietness is present for being so close to Knapp's Corner and Downtown Grand Rapids. The property is upkept very well compared to other properties I've seen when I was searching for my own place to live. One of my favorite things though is how the Hidden Creek team will throw fun events throughout the month for their residents to allow the community to engage with one another and the team, which is just a nice option to have that not all properties will take the time to do. Overall, great people to work with and such a nice environment to be in!
We have resided at Hidden Creek Apartments for many, many years and have been very pleased with living here. The office staff is friendly and very helpful. In addition, the maintenance personnel are also friendly and very professional and we really appreciate the great job they do in taking care of all maintenance needs to keep our apartment in proper running condition. We can also always count on them to handle any type of "Emergency Maintenance Requests" that happen after regular office hours.....for example: the on-call maintenance personnel promptly handled a situation where our furnace went out on us in the winter-time in the middle of the night. I would highly recommend Hidden Creek Apartments to anyone who is looking to live in a friendly, clean, and well-maintained apartment community!!!
We have been living here for over a year now and plan to renew our lease yet again. Great staff here, from the office to the maintenance people, everyone is very nice. Pool is a great place to hang out in the summer with plenty of chairs. The grill and fire pit on the deck makes it a great way to spend summer nights. Love living here!
Mon-Fri: 9am - 5pm
Sat & Sun: Closed
Nearby Apartments For Rent in Grand Rapids: