Reeves Complete Auto Center, Inc.
Reeves Complete Auto Center, Inc is a trusted family-owned business in Santa Clarita, California. Reeves Complete Auto Center, Inc. is one of the Three Best Rated® Car Repair Shops in Santa Clarita, CA.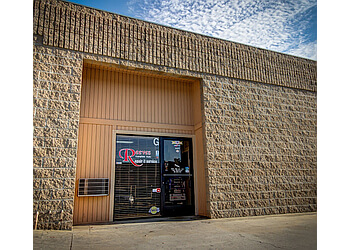 Dave Reeves is a Service Writer and automotive shop manager who has over twenty-eight years of experience in the automotive repair and maintenance industry. Their mission is to provide their clients with the best quality service possible to make the customers satisfied. Reeves Complete Auto Center, Inc mechanics are highly skilled and have years of experience in the automotive field. The well-experienced team Specializes in Complete Auto Repairs. The shop can service all makes and models. Reeves Complete Auto Center offers night drop 0% financing for six months. Reeves Complete Auto Center, Inc is open for online appointments.
Repair: Oil Changes

A/c Repair

Check Engine Light Diagnostics

Suspension

Transmission Repair

Battery

Brake Repair

Exhaust

Electrical Systems

Factory Scheduled Maintenance Service

Auto & Engine Repair
I was looking for a new automobile repair shop. So! I researched on Google Maps Reviews. Almost every posting was on a positive note in other words, a Five Star vehicle service repair company. They are the most professional and friendliness repair Company. A Family owned business. Everyone is extremely helpful and knowledgeable. When your vehicle is repaired, you will feel and know you experienced the best service in Santa Clarita. Great service and epic service.
The Reeves experience is above all others in car repair. Family run and great at what they do --- reasonable no haggling prices and fantastic work. This is the only place I will ever bring my son's 1988 Reatta. They keep it tip-top. I highly recommend Reeves Complete Auto Repair and Service Center for literally ANY of your car needs. Great people. Great work!
My husband and I love this place. Their work is superior. They are trustworthy and honest when it comes to your needs.
Mon-Fri: 8am - 5pm
Sat & Sun: Closed
Other Car Repair Shops in Santa Clarita: