A+ Missouri Driving Instruction
A+ Missouri Driving Instruction guarantees quality service. A+ Missouri Driving Instruction is one of the Three Best Rated® Driving Schools in Kansas City, MO.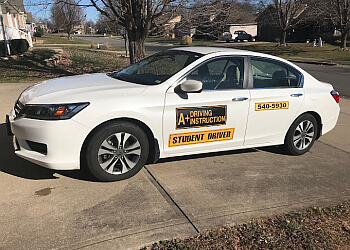 Their team of instructors is known for their patience, courtesy, and understanding of the importance of professional driving instruction. They are well-equipped to address any concerns you may have, including previous driving test failures, and their comprehensive training covers all the essential skills necessary for becoming a competent driver. Additionally, they offer the convenience of picking you up from your home, work, or school at no extra charge. A+ Missouri accommodates busy schedules by scheduling driving lessons seven days a week. Their vehicles feature automatic transmissions, anti-lock brakes, and air conditioning to ensure your comfort. Furthermore, their cars are equipped with an additional brake and mirror for the instructor's use. If you choose to pay for the 6-hour course upfront, you can even enjoy a discount. A+ Missouri is conveniently located just 19.8 miles from downtown Kansas City.
One-On-One Private Behind the Wheel Lessons

2 Hours Lesson

Defensive

Turns

Highway

City

Back Road

Parallel Parking Instruction & Interstate Driving



Raymore

Harrisonville

Greenwood

Lone

Jack

Pleasant Hill

Peculiar

Independence

Belton

Grandview & Raytown
I highly recommend A+ for driving instruction. Our daughter easily passed her driver's test the first time! Wayne was extremely thorough and connected very well with our teenager. It became clear very quickly that Wayne was very knowledgeable and had many years of experience, utilizing multiple forms of educational techniques to ensure all driving concepts were understood, mastered and retained. I particularly appreciated the emphasis Wayne placed on safety using real life scenarios which illustrated both the privilege and responsibility of driving to my teenager. In fact, our daughter is now giving us "pointers" with our driving. I couldn't imagine a better driver's education experience! Thank you Wayne and thank you A+!!!
Wayne is a great teacher. My daughter passed the driving test with a score of 98! Wayne taught her all the things that are on the test and also helped her to be a safer driver. If you have a teen driver put them in this school.
Can't say enough about Hank and the crew at A+ Driving. Our son came out of the course with a renewed confidence and scored a perfect 100 score on his first drivers test. The Testing officer told us to thank whoever taught him because they did a great job. Totally worth every penny. Highly recommend A+!
Nearby Driving Schools in Kansas City: