James Smith Driving School
James Smith Driving School (JSDS) is a reputable and long-standing institution in the field of driver education. James Smith Driving School is one of the Three Best Rated® Driving Schools in Kansas City, MO.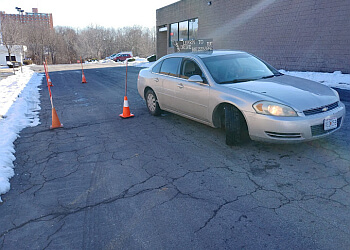 With a history spanning over fifty years, their dedicated staff has successfully assisted over 15,000 students in enhancing their driving skills, comprehension, and test-taking abilities. JSDS employs a personalized approach to instruction, working closely with each student to ensure an efficient and effective learning journey. They offer one-on-one tutoring and comprehensive guidance on operating motor vehicles safely. The ultimate objective of JSDS is to equip its students with the necessary knowledge and skills to obtain a driver's license and become confident and responsible drivers. All JSDS instructors are licensed by the state and possess additional certifications or licenses for specialized training purposes.
Refresher Course

Parallel Parking

In-Car and Hi-Way Training

12

10

8

4 and 6 Hours Lessons

Behind the Wheel Instructions

Driving Test Preparation & DMV Road Test Services
My daughter had a great experience at her "intro to driving" lesson today. She said that she learned far more in these two hours of instruction than she had learned when I have had her practice with me in an empty parking lot. I'll be the first to admit that I don't know how to teach someone how to drive, so I'm grateful for this school and the expertise. We will be continuing with a few more hours of instruction and practice. Bonus: they provide transportation and the practice vehicle.
Mr. King was an amazing teacher. The service was excellent and my son passed his test on the first try with an 80%. If you are looking for reasonable prices and great results James Sinth Driving School is the place for you.
Thanks Reggie King. For the record, when you being strict, it motivates!!! Don't listen to these sensitive people. Definitely the best driving school in KC, low price for quality
1 Hour $ 65.00 +Tax
14 Hour Course $800
10 Hour Course $650
08 Hour Course $500
6 Hour Course $400
04 Hour Course (Refresher Course) $300 + Tax
02 Hours of Instruction $200.00 + Tax
01 Hour 0f Instruction $100.00 + Tax?
01 Hr of Instruction in Customers Personal Vehicle(Must have valid insurance $150.00+ Tax per Hour
Nearby Driving Schools in Kansas City: