Clark County Cleaners
Clark County Cleaners built its reputation on more than 20 years of experience in dry cleaning services in Vancouver, WA. Clark County Cleaners is one of the Three Best Rated® Dry Cleaners in Vancouver, WA.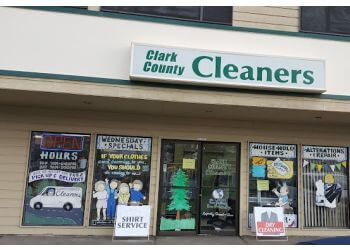 Mark & Barbara own and operate Clark County Cleaners and started to be in charge of their own destiny. They specialize in shoe repair, wedding gown preservation, alterations, and repairs are other services they offer their clients. The garments are cleaned on-site using environmentally friendly cleaning solutions. They love the relationships and friendships they have made over the years and strive to provide the best customer service and the highest quality product. All of their work is 100% guaranteed, and they provide the best customer service in the Vancouver area. They offer free pickup and delivery of your dry cleaning and laundry needs.
Laundry

Folding

Suits

Blouses

Skirts

Sports Jacket

Pants

Slacks

Scarf

Ties

Vest

Wedding Gowns

Lab Coat

Jeans

Household Items

Tank Top

Bed Sheets

Blankets

T-Shirt

Polo Shirt

Sweaters

Cardigans

Tablecloths

Napkins

Duvet Covers

Pillow Cases & Cleaning Services
Took excellent care of a military dress uniform - cleaned, pressed and folded expertly. The uniform shirts look brand new! It's nice to know Clark County Cleaners can handle these special, high-value items. Great experience.
Went in to pick up some dry cleaning and spoke with a lovely counter employee named Nayla. She was very attentive to my questions and speedy to help with my needs. Will come back soon for alterations!
Excellent customer service! Loving the new owner/team! Working hard.

I had never gone to a dry cleaner before visiting Clark County Cleaners and they could have not made it easier. They had said my items would be done on a Monday and it was completed two days earlier on Saturday, all for a very reasonable price. My items looked great and I will be going back for all my dry cleaning needs. - Hunter
Mon-Fri: 9am - 5pm
Sat: 9am - 2pm
Sun: Closed
Nearby Dry Cleaners in Vancouver: