LL Flooring (Lumber Liquidators)
LL Flooring, formerly known as Lumber Liquidators, is a top retailer of hard-surface flooring and accessories in Norfolk. LL Flooring (Lumber Liquidators) is one of the Three Best Rated® Flooring Stores in Norfolk, VA.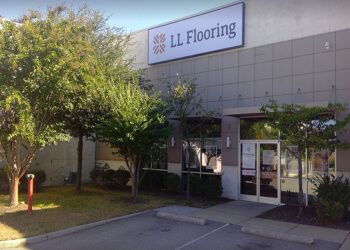 They prioritize sustainable harvesting practices in their suppliers, ensuring that forests can regenerate quickly and guaranteeing resources for future generations. Their store features an extensive selection of flooring options, including waterproof flooring, laminate, bamboo, cork, engineered hardwood, and vinyl. They also provide services for both DIY-ers and professionals, from design and installation to credit and financing options. LL Flooring takes pride in their vast inventory of pre-finished and unfinished hardwood floors, which is one of the largest in the industry.
Vinyl

Waterproof

Wood

Laminate

Tile

Cork & Bamboo
Nice store. I picked up stuff for a friend and they gave me no issues with doing it at all. Also, they helped me carry the stuff to my vehicle when it wasn't actually necessary. Thanks for the great customer service!
This store is consistently good / great. The sales staff is attentive and no pressure sales. They know their product. Pickup was easy and they loaded my truck for me. Gotta love Bellawood and when they have a sale - prices are really good. Remember - you get what you've paid for.
Exceptional service. The staff is keen and patient to receiving diverse customers. Also, there are the usual affordable and good selections to buy.
Discount
10% Off On Hardwood Flooring
15% Off On Waterproof,Laminate Flooring

Mon-Fri: 9am - 6pm
Sat: 10am - 5pm
Sun: 11am - 4pm
Nearby Flooring Stores in Norfolk: