Sheraton Norfolk Waterside Hotel
Sheraton Norfolk Waterside Hotel is an excellent choice for accommodation, boasting magnificent views of downtown Norfolk and a prime location merely a mile from the Nauticus maritime museum and an 11-minute walk from Town Point Park. Sheraton Norfolk Waterside Hotel is one of the Three Best Rated® Hotels in Norfolk, VA.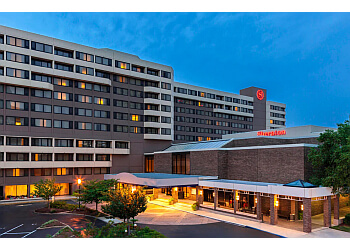 There are well-appointed rooms and 17 event venues available for guests. The hotel is situated near popular tourist attractions such as Nauticus and the Chrysler Museum of Art. Guests can enjoy room service and a comfortable sleeping experience with pillowtop mattresses, soft duvets, and hypoallergenic pillows. The Sheraton Norfolk Waterside Hotel has a world-class ballroom and a grand promenade area suitable for receptions. They offer 17 meeting and wedding spaces that can be adapted to meet your specific needs with expert assistance in catering, decor, and setup. The hotel is also pet-friendly, so you can bring your four-legged friends to enjoy your stay in Norfolk.
Smoke-Free Guestrooms

24-Hour Front Desk

Train Station Pick-Up Service

Business and Fitness Center

Free Wi-Fi

Computer Station

Daily Housekeeping

Air Conditioning

Valet Parking

Breakfast Available

Outdoor Pool

Restaurant

Bar/Lounge

Dry Cleaning/Laundryatm/Banking & Newspapers in Lobby
Our stay at the Sheraton was delightful. The customer service alone was 5 stars! Then add in our waterside view - perfect! Omar greeted us in the elevator on the way up to our room. Izaiah at the front desk told us about Chef Rena's delicious omelettes at the continental breakfast. Our server Tasha ensured we didn't need a thing, and the manager Mimi stopped by our table a few times for a temperature check. I'll definitely be back to stay here again!
The room was clean and comfortable with a beautiful view of the river. A noticeably nice part of my stay was the breakfast staff in the restaurant. Sharon, Mimi, and Rena were attentive and so personable without at all being intrusive. Overall, they were indeed the icing on the cake! I would stay here again, anytime.
Kudos to the hotel for its excellent location and spotless rooms. Three employees made my stay especially perfect. Ms Rusty has an infectious smile and attitude. She loves her job and customers are drawn to her. Amaya and Mimi sang Happy Birthday to me at breakfast, making my day so very special. Wonderful stay at the Sheraton, and I'll look forward to to the next time I stay.
Check-In: 4pm
Check-Out: 11am
Nearby Hotels in Norfolk: