Baker's Fine Jewelry & Gifts
Baker's Fine Jewelry & Gifts is a renowned jewelry store with a century-long legacy. Baker's Fine Jewelry & Gifts is one of the Three Best Rated® Jewelry in Norfolk, VA.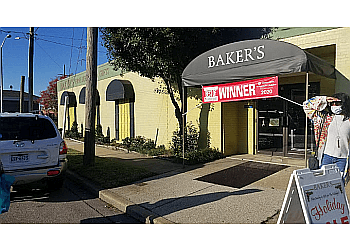 Their Jewelry was established by Theodore Baker in 1919. They take pride in their continued success and aim to cater to a diverse clientele by offering a wide range of fine jewelry options, going beyond the scope of national advertising campaigns focusing on specific designers. Their commitment to excellence is demonstrated through their adherence to the Gemological Institute of America standards for Diamond Sales, Jewelry, and Watch repair. Moreover, they showcase exquisite fine jewelry pieces from designers worldwide, including their signature creations. At Baker's Jewelry, customers can explore a curated selection from both couture and traditional jewelry designers. The store also boasts a comprehensive collection of fashion jewelry to suit various preferences and budgets. With their talented in-house design team, they excel at crafting unique jewelry items that reflect their client's personal visions. Baker's Jewelry ensures a satisfying experience for all customers. Their experienced and knowledgeable staff further enhances the quality of service provided.
Diamonds

Gem Stones and

Pearls Collections

Engagement and Wedding Rings

Necklaces

Bracelets

Rings

Earrings

Studs

Cuff Links

Watches & Charms
Excellent jeweler!!!! My husband and I left our wedding rings at Bakers to be tweaked. I never asked for an ETA when I left. The rings should have taken between 7-10 days when I called for an update. Our 34th anniversary is today and they made sure we had them in time for our special day ! We sincerely thank you for expediting the work and our rings are perfectly done to our expectations!!!!
I have many pieces of fine jewelry from Baker's, including my engagement ring, wedding band, and my fiancé's wedding band. They are so great to work with, and we come all the way from Richmond just to use Baker's. I won't use another fine jeweler!
They resized my ring in about 10 days total time. I love my ring and it fits perfectly now! It was lovely to work with the jeweler on finding the right sizing for me. Everyone was very kind and friendly. It cost less than the original price estimate I was given which was a lovely surprise. Very happy and I will absolutely be coming back for my future jewelry needs! Very pleasant experience.
Mon-Fri: 10am - 5pm
Sat: 10am - 3pm
Sun: Closed
Nearby Jewelry in Norfolk: