ANC Movers
ANC Movers is one of the leading moving companies in Vancouver, WA. ANC Movers is one of the Three Best Rated® Moving Companies in Vancouver, WA.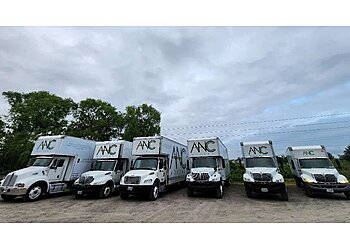 They provide residential and commercial moving & packing. Their experienced full-time movers (no day laborers) are expertly trained and take pride in doing the job right. ANC Movers is fully licensed and insured and helps with both local and interstate moves. They're full-service movers specializing in stress-free residential and commercial moves. The company cares about its customers and aims to make the customer experience as easy as possible. ANC Movers provides service with a smile and takes care of all your belongings with extreme care when they move them. The company ensures care because they do not use temporary hires to make your moves. The staff of ANC Movers is an experienced mover who has undergone adequate instruction. Their team will be on both sides of the move.
Residential

Commercial

Wrapping

Transporting

Piano

Furniture and Gun Safe m

Unloading

Loading

Packing & Unpacking
One of the most pleasant moving experiences I've had in the my 10-12 moves. As this was mostly vacating a house and moving into storage units they packed the storage units so well we were amazed it all fit. The teams were friendly, patient and very hard working. Due to my timeline I did not shop around for price, but availability. That said for the money, I'd say it was well worth every penny. I highly recommend them!
The movers did a great job! They wrapped mattresses and delicate furniture. They are VERY honest. They found paint coming off my front door and figured it was them who did it and said they would fix it. The paint was already coming off the door and it was no fault of theirs. They were ready to fix it! I really appreciate there honesty and professionalism. I have already recommended them to several friends.
Shane, Chance and Kaylob were awesome. They were fast but careful with my very old antique piano. The ladies who answered the phone were professional and were able to get me scheduled for move within two week time frame. I would recommend ANC to anyone.
Mon-Fri: 8am - 6pm
Sat: 8am - 1pm
Sun: Closed
US DOT #2877082|#MEF181016
Nearby Moving Companies in Vancouver: