YOU MOVE ME
You Move Me is a well-known professional moving company in Vancouver, WA. YOU MOVE ME is one of the Three Best Rated® Moving Companies in Vancouver, WA.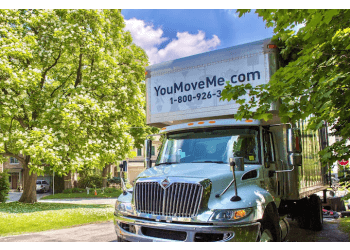 The company offers transparent rates following the tariff. You Move Me offers a range of packing services & can also provide packing supplies. You Move Me has a dedicated moving coordinator to work with you to plan every move detail. The company is fully licensed and insured and can handle any type and size of an office move. Their goal is to make your moving day as smooth and stress-free as possible. They have a range of supplementary packaging services to match your needs. You Move Me realizes that others might need some packing help. If that's the case for you, they can take care of it. You Move Me is trained, bonded, and insured, giving you the peace of mind that your belongings are in good hands. When you are ready to experience your easiest move ever, call them or go online to schedule your free, no-obligation on-site estimate today.
Commercial

Home

Office

Apartments

Condos

Single-Family Homes

Retirement Communities

Dorms

Long Distance

Senior and Local Moving

Furniture Disassembly and Assembly

Packing

Unpacking

Loading & Unloading
Perfect from start to finish. I cannot say enough great things about these guys! Dan and Gage were fast, efficient, and super friendly. This was a relief because my last move was a horrible experience. These 2 guys could have done what the last 5 guys did in probably half the time! Also, I was impressed by how You Move Me was able to schedule my move right away. I would give more stars if I could!
You Move Me was as good a moving experience as one could have, from beginning to end. There was an in-person appointment, the quote for our large move was in the ballpark of some other companies, and lower than others. The final figure was, actually, a few dollars under. All six movers worked very fast and hard, yet took great care of our furniture and packed boxes. My only concern was that insurance must be obtained from a third party, but the company assured me they'd deal with any damaged goods. We got insurance (with deductible, of course!) for several pieces, and took our chances with the rest. In the end, there were 3 items with minor damage. Robert, one of the owners, came to the house to assess, determined the repair was beyond his ability and said he'd refer to an outside company. That company seemed to have a backlog as it took several weeks and a couple of phone calls to get an appointment. They were worth waiting for. The owner and assistant came from Win R Creative Repairing and did a fantastic job. It is impossible to tell where the repairs were done. I have no intentions of ever moving, again; but if I did, I would hire You Move Me in a heartbeat!
Highly recommend. This is my third move with You Move Me. And I will use them again next time I need responsive professionals. Alan and Stephan went out of there way to accommodate my need for three pickups and two dropoffs. The morning went very smoothly thanks to them. They were pleasant, interesting, quick, and very, very good.
Mon-Fri: 8am - 6pm
Sat: 9am - 5pm
Sun: 9am - 3pm
Nearby Moving Companies in Vancouver: