Sprocket Therapy Solutions
Sprocket Therapy Solutions is a well-established and reputable outpatient therapy clinic catering to individuals of all ages. Sprocket Therapy Solutions is one of the Three Best Rated® Occupational Therapists in Nashville, TN.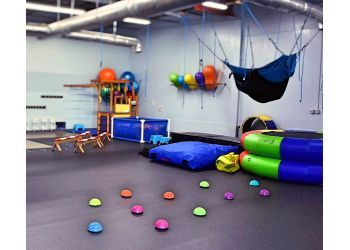 Barbara Talbert (Barb) and Natalie Udwin (Nat) are occupational therapists' founders. Their primary objective is to deliver innovative therapy services that enhance the quality of life for their clients. The center has been dedicated to providing community-based outpatient therapy services for individuals spanning various age groups. At Sprocket, their team of therapists employs cutting-edge techniques to prepare clients both mentally and physically, facilitating the acquisition of essential skills. Their wide range of treatments encompasses workers' compensation injuries, cognitive deficits, post-surgery rehabilitation, vestibular disorders/deficits, specialized care for developmental delays, and feeding therapy.
Feeding Therapy

Developmental Delays

Disabilities

Sensory Integration Therapies

Job Training

Primitive Reflex Integration

Behavioral Modification

Social Skills

Visual-Motor Deficits

Transitional Living

ADLs (Activities of Daily Living)

Self-Care

Post-Surgery Rehab

Stroke

Long Term Illnesses

Anxiety & Workers Comp Injuries
We had our first appointment with Nat today. Our main concerns were our sons tongue tie and neck asymmetries. Nat evaluated our son and gave us exercises to do to correct patterns. We enjoyed the relaxed environment and were amazed by her wealth of knowledge. We highly recommend Sprocket Therapy/ Elements Therapy!
Sprocket Therapy has been one of the greatest things that have ever happened to me. The team is excellent and I owe many a thanks to the help and patience of Barb, who's gotten me through some very difficult times and continues to do so. They are warm, accommodating and I always feel so very welcome every week that I arrive. This really is an outstanding practice and I'm so glad that we in Nashville have the honor of having Sprocket Therapy and their owners and staff here in our awesome city.
We love Sprockets! My son and daughter attend Sprocket for Speech therapy. They see Miss Jess and she has been such a godsend! My son has apraxia of speech, and Jess's skill has been a true gift. The kids also have so much FUN while working on their speech. They look forward to going every week, and I love seeing all of the progress they are making.
United Healthcare, Blue Cross Blue Shield, Amerigroup, Tricare for Life, Medicare, Aetna & Humana
Mon-Fri: 8am - 6pm
Sat & Sun: Closed
Nearby Occupational Therapists in Nashville: