Cadence Academy Preschool
Cadence Academy Preschool is a preschool and childcare center catering to children aged six weeks to 12 years. Cadence Academy Preschool is one of the Three Best Rated® Preschools in Charlotte, NC.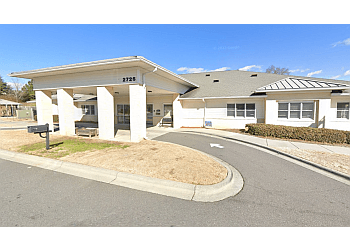 With a focus on creating a nurturing environment akin to home, the preschool offers parents peace of mind by providing exceptional education and fun-filled days for their children. A theme-based curriculum encourages students to express themselves and develop in educational, social, physical, and emotional aspects. The instructors at Cadence Academy Preschool are highly trained and possess professional experience in early education programs. The preschool boasts three playgrounds with age-appropriate structures, ensuring every child can engage in safe and enjoyable play. A summer program is also available, incorporating an exciting new theme combining learning and fun. Cadence Academy Preschool prioritizes nutrition by providing nutritious meals and snacks to their students.
Secure Environment

Cognitive

Socio-Emotional

Physical

Attentive Talking

Story

Rhyming and Singing

Rocking

Cuddling

Positive Play

Love of Literacy

Speaking Spanish

Child-Friendly Classroom

Potty Training

Conversation

Technology Time

Fostering Confidence

Strengthening Vocabulary

Mastering Math

Computer Skills & Music
My kids Zahid and Zoe have been attending Cadence since they were 3-4 months old, I think I've experienced to meet most of the teachers throughout the years and they've all been super sweet! Cadence has a great environment, where you're treated like family. The teachers are very loving, caring and professional, as well as the administrative staff. My kids love to go to their daycare every morning because they have fun with their little friends and they also get to learn new things with fun activities. I'm very thankful that I could trust and rely on my kids Daycare, they are the BEST!
WOW! My child loves to go to school in the mornings, and this facility is amazing! All the staff are attentive and genuinely care about the kids. My daughter is now in Pre-k but she has been here since 2's. Ms. Alisha and Ms. Narissa are THE BEST TEACHERS ever!! We moved from a different daycare and I have been sooooo happy we did so! I highly recommend sending your children here, you will not be disappointed!!
My child has flourished tremendously since starting here! He started in infant 2 and he's now in toddler 2. ALL the teachers are amazing and I would absolutely recommend this center for any parents looking for a safe and educational environment for their children! I love seeing his progress on their APP and seeing all his daily pictures, they are awesome at keeping up with his daily activities!
Tuition Rate: 130 to $375 per week
Mon-Fri: 7am - 6pm
Sat & Sun: Closed
Nearby Preschools in Charlotte: