Champion Weatherproofing
Champion Weatherproofing is a reputable full-service roofing company located in Riverside, that specializes in offering comprehensive roofing solutions to protect residential and commercial properties. Champion Weatherproofing is one of the Three Best Rated® Roofing Contractors in Riverside, CA.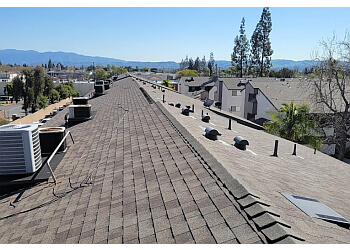 With over ten years of industry experience, they have established themselves as trusted experts in repairing and replacing roofs for homeowners, homeowner associations, and commercial buildings. The team at Champion Weatherproofing comprises licensed, insured, and bonded roofing professionals who are dedicated to delivering top-quality workmanship and ensuring customer satisfaction. They take pride in their commitment to providing excellent service and strive to achieve 100% customer satisfaction with every roofing project. To further instill confidence in their services, Champion Weatherproofing offers a 100% customer satisfaction guarantee for every roofing job they undertake. This guarantee reflects their confidence in their abilities and their determination to get the job done right. In addition to their dedication to customer satisfaction, Champion Weatherproofing provides free repair and replacement estimates. They understand the importance of transparency and ensure that clients receive an accurate evaluation of their roof, along with recommendations tailored to their home and budget. With a wide range of services available, including roofing repair, roofing replacement, and weatherproofing, Champion Weatherproofing can address various roofing needs. For those seeking a professional evaluation of their roof, Champion Weatherproofing offers free roof inspections. This service allows homeowners and business owners to gain valuable insights into the condition of their roofs and make informed decisions.
Emergency Tarping

Roof Replacement and Repair

Weatherproofing

Commercial Roofing Repair & Replacement

Emergency Tarping

Roof Replacement and Repair

Weatherproofing

Commercial Roofing Repair & Replacement
Orange County & All the Inland Empire
Daniel and Rudy were on site and ready to rock at appointed time, very professional. Kept noise to minimum even though replacing tiles/performing maintenance on a roof, and did the job RIGHT the FIRST time. Price is competitive and quality excellent, highly recommend. Semper Fi.
I used this roofing service to install a new roof. They took great care of me, and after my garage roof was damage due to a fire, they promptly installed a new roof per service agreement. Really great and professional workers.
They did an excellent job at a fair price and communicated well. They also protected and cleaned the property in a professional manner. I would use them again. Barry Lee O'Connor
Nearby Roofing Contractors in Riverside: