Hayden Olivia Bridal
Hayden Olivia Bridal is a prestigious bridal boutique that has received multiple awards for its exceptional services. Hayden Olivia Bridal is one of the Three Best Rated® Bridal Shops in Charlotte, NC.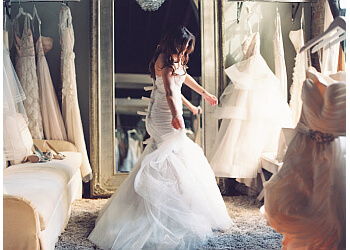 Situated in downtown Charlotte, North Carolina, the boutique boasts an elegant and contemporary salon where brides can access a comprehensive range of bridal and makeover services. At Hayden Olivia, every bride is treated to an unforgettable dress-shopping experience. The boutique prides itself on bringing the most coveted designs to Charlotte each season, catering to the tastes of the modern bride. With a carefully curated selection of 120 styles from the world's most influential bridal designers, Hayden Olivia offers an exquisite collection. In addition to stunning wedding dresses, the boutique provides a variety of veils, hairpieces, and essential accessories. The wedding dress collections at Hayden Olivia Bridal encompass a range of prices, starting from $3,500 and going up to $7,000, with the majority of designs falling within the $4,000 to $7,000 range. Furthermore, the boutique offers alteration services, garment care, cleaning, and even personalized monograms to ensure a perfect fit and exquisite presentation of the wedding attire.
Wedding Dresses

Anne Barge

Alyne

Hayley Paige

Blue Willow

Rivini by Rita Vinieris

Angel Rivera

Romona Keveza

Sara Gabriel Veils & Alterations
Hayden Olivia Bridal is the place to get your dress! Not only is the boutique beautiful, the staff is knowledgeable and super helpful. From the minute you walk in you are catered to and made to feel like the only bride in the building. Baylee helped me select my dress and when I say her customer service was top notch I mean it! From making sure I had the perfect veil and accessories to go along with the dress to rounds of champagne after I finally said yes to the dress she was absolute amazing. I'm telling you ladies don't waste time in other bridal boutiques because Hayden Olivia is it! Thank you ladies for making all my wedding dress dreams come true! Y'all are beyond fabulous
Loved HOB!! They were so friendly and answered all my questions. I found my dress towards the beginning of my appointment, but since we had so much time remaining my consultant had me try on all kinds of different dresses which was super fun and made me feel really confident in my choice!
I had the best experience with HOB and Baylee! I felt so comfortable and beautiful throughout the entire process. Baylee and the team were so fun too! They were also great at helping recommend other dresses until you found the perfect one. I had put off dress shopping for so long, nervous I wouldn't find "the one" but I wish I could dress shop all over again because of my experience!
Wedding Gown Ranges from $3500 - $7000
Tue-Fri: 11am - 3pm
Sat: 9am - 3pm
Sun & Mon: Closed
Nearby Bridal Shops in Charlotte: