The Gilded Gown
The Gilded Gown is Knoxville's largest independent bridal and unique occasion salon. The Gilded Gown is one of the Three Best Rated® Bridal Shops in Knoxville, TN.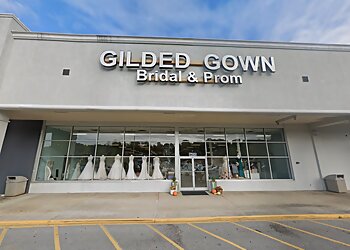 They have handpicked the best of the best Bridal Dress Shops in Knoxville to help you pick the right one for your big day. They are proud to help brides to find their dream dresses. They provide a luxurious selection of beautiful gowns in all sizes and styles. Their fantastic team of caring stylists is always helpful, and they offer a stress-free shopping experience in a friendly atmosphere. They carry the most beautiful bridal gown collections off the rack in sizes from 0 to 36. Customers can also get special occasions and prom dresses from an adorable collection of The Gilded Gown. They have the most significant number of beautiful veils in stock, jewelry, gorgeous bridal sashes, lace jackets, hair vines, combs, headpieces, and tiaras. They provide brides-to-be with amazing dresses and the elegance of the wedding celebration.
Bridal Gowns

Special Occasion Dresses

Prom

Veils

Jewelry

Tiaras

Head Bands

Bridal Sashes

Lace Jackets

Hair Vines & Headpieces
I took a girls trip to Knoxville with my bridal party hoping to find the perfect dress for my big day... Diane was my stylist and she was such a great help and made the whole experience fun and easy. She treated us all so well, listened to my preferences, gave me honest opinions, and even had some amazing ideas for dresses to try that I wouldn't have normally chosen for myself that were just gorgeous! I ended up falling in love with her Wildcard and said YES to the dress. I felt like a princess and had so many compliments on my dress. I highly recommend this store! There are so many beautiful choices and the staff is wonderful!
I recently went with my best friends to help her shop for her gown. We had visited many several other stores. My friend is very tall and mid-size. Gilded gown had a lot of dresses in her size she could try whereas other places only had one or two. Diane helped us and was awesome. She made us all feel comfortable, offered us drinks and snacks, and was super friendly and helpful. This is an "off the rack" store. So, you take your gown with you! That's kind of nice because you don't have to wait and hope that your dress arrives on time. Diane took lots of pictures while my friend was trying on gowns and airdropped them all to us when we left. While they don't do alterations, they gave us an entire list of seamstresses to help with that. We found the prices were very reasonable as well. Highly recommend!
100% the best bridal store I have ever been to!!! I had the best consultant Diane she was amazing so welcoming and helped me fine my perfect dress!! They have so many dresses to choose from I promise you'll find ur dress for sure!! They are so sweet and treat u like queens! Thank you Diane and Gilded Gowns for helping me make my day so special and finding my dream dress!!
Mon,Tue,Thu-Sat: 11am - 7pm
Sun: 12pm - 6pm
Wed: Closed
Other Bridal Shops in Knoxville: