Zerorez Tucson
Zerorez, a locally owned and operated national franchise carpet cleaning company, is proud to serve Tucson, AZ. Zerorez Tucson is one of the Three Best Rated® Carpet Cleaners in Tucson, AZ.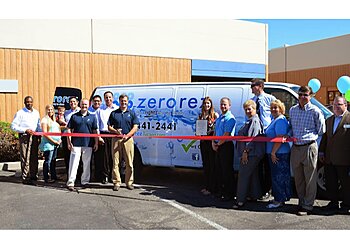 What sets Zerorez apart is their patented cleaning system that utilizes ZrWater instead of traditional soaps and detergents, which can leave behind unwanted residue. This innovative approach ensures a thorough and residue-free cleaning for your carpets. Zerorez has received the highest rating in lab testing from the Carpet and Rug Institute, a testament to its ability to remove dirt and contaminants effectively. With Zerorez, you can trust that your carpets will receive the most advanced and efficient cleaning available. Their dedication to providing the best carpet cleaning service at an affordable price sets Zerorez apart from the competition. If you're looking for a reliable and effective carpet cleaning solution, don't hesitate to contact Zerorez for more information. Their knowledgeable team will be happy to assist you and answer any questions you may have.
Residential

Pre Treatment

Inspection and Repair

Mattresses

Tile/Stone

Protectant

Pet Stain and Odor Removal

Area and Oriental Rug

Upholstery & Commercial Carpet Cleaning
Great services! Highly recommend this company. Lukas & Julio were very helpful and professional with the project. My porcelain floors look amazingly clean. My carpeted stairs are all clean. I also had my Luxury Vinyl flooring done and they're nice and clean as well. I had made a Huge mistake by using mop & glow & swifter sweeper solution to mop which left a filthy residue on my flooring. All traffic made the dirt stick daily & it got worse over time. Zerorez was able to easily remove the dirt and residue leaving my floors looking clean again. Thank you so much.
We have been using Zerorez for our carpet cleaning service for years. They do a great job and their technicians are friendly and easy to work with. The best part, they are always willing to put in extra effort in cleaning as much dirt and grime as they can from the high traffic areas and are usually able to restore those areas back to the original color. Great job Zerorez and thank you.
From the office to the technician it was a pleasant experience. We had some speed bumps with where we were located and not having enough hose length. However, the office was quick and able to meet my strict schedule and were flexible in rescheduling for the treatment! I highly recommend Zerorez to any out there looking for carpet cleaning. The Technician Alex was extremely professional and knowledgeable about what he was going to do and how he was going to do it. For an individual who appreciates the smaller details, this was a huge thing with me! Thank you Zerorez for taking care of my issue and I hope to do business with you again in the future.
$42 per room for carpet and $65 per room for tile
Mon-Fri: 8am - 5pm
Sat: 8am - 4pm
Sun: Closed
Nearby Carpet Cleaners in Tucson: