Liz Ryan Design
Liz Ryan Design is a well-established interior design company located in Tucson, which is known for its unique and personalized designs that reflect the clients' personalities and interests. Liz Ryan Design is one of the Three Best Rated® Interior Designers in Tucson, AZ.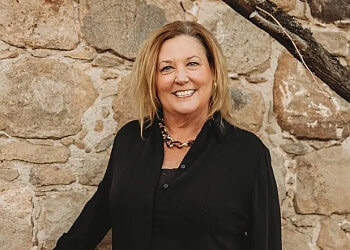 Liz, the owner, has a special connection with both the South and the Southwest and has over 30 years of experience in the field. Along with her husband, Dave, they chose to settle in the Tucson foothills after spending a decade in the Colorado mountains. Despite being a small company, their professionals have more than 24 years of experience, and they are now expanding into a full-service organization with top-quality products and services. They offer free quotes and cater to clients in and around Tucson areas.
Furniture and Material Selections

3D Rendering

Bathroom

Closet

Color Consultation

Custom Furniture

House Plans

Kids Bedroom

Kitchen Remodeling & Lighting Design
Working with Liz Ryan and her team was a wonderful experience. She has an exceptionally positive energy that makes her fun to work with. Our home was completely transformed from a very dark and dingy house into a light, airy Tuscan style home. Our desire to make it comfortable, elegant and beautiful was met. For the most part, we made decisions together, but occasionally we had to trust her instincts and direction, which all was a good decision. We are happy with the transformation.
Liz and her team did an outstanding job with our project. Liz listened to our ideas and put together beautiful materials to be used. She oversaw the project and made sure that it was done well. She was very easy to work with. Both of our bathrooms are gorgeous and we highly recommend her.
Liz Ryan and her team are true professionals. It's quite clear when working with them that they love what they do and love their clients even more. I highly recommend anyone looking for interior design services in the Tucson area to check them out. I'm sure you'll have just as wonderful experience as I have. Thanks Liz!
Mon-Fri: 9am - 5pm
Sat & Sun: Closed
Nearby Interior Designers in Tucson: