Ballantyne Jewelers
Ballantyne Jewelers is a full-service jewelry store that has been passed down through generations of a family and is run by them. Ballantyne Jewelers is one of the Three Best Rated® Jewelry in Charlotte, NC.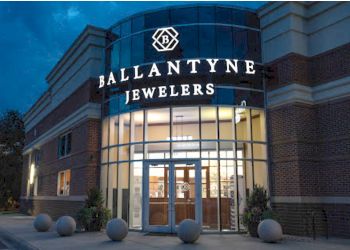 They take pride in their commitment to offering unique and affordable jewelry, while also ensuring that their customers are well-informed about diamonds and gemstones. Their areas of expertise include engagement and wedding rings, diamonds, colored stone jewelry, custom designs, and Swiss timepieces. The store specializes in crafting custom jewelry on-site, and they have a team of skilled master jewelers who can handle all types of jewelry repairs. To enhance their services, they utilize advanced laser machines for precise work. To provide reliable and unbiased information, they rely on reputable grading laboratories such as the Gemological Institute of America (GIA) and the American Gem Society (AGS). The store also has graduate gemologists available to assist customers. Additionally, they offer convenient services like express same-day and next-day repairs, interest-free financing options, and free insured shipping.
Gold

Platinum

Palladium and Diamond Collections

Engagement and Diamond Rings

Wedding Bands

Necklaces

Pendants

Crosses

Bracelets

Earrings

Repair

Appraisals

Gold Buying

Loose Diamonds & Watches
From start to finish, I could not have asked for a better company to work with. Specifically, I worked with Simon on the engagement ring for my fiance. My fiance and I came in together to get a feel for the place. Simon was very thorough on explaining the process, showing different ring styles, and answering our questions. I came in at a later date to work with Simon on design and size. I told Simon my constraints and desires and let him run with the rest - it was a leap of faith and a whole lot of trust! Within a month of putting down my deposit Simon had the ring completed PERFECTLY!!! He was very supportive and flexible on creating and adjusting a payment schedule. I couldn't ask for a better jeweler and will definitely be a lifetime customer! I recommend this company to any and everyone!!!!!
From start to finish, my experience with Ballantyne Jewelers while purchasing an engagement ring was exceptional. Yuhan took care of me every step of the way and is top notch, a true master of his craft. His passion and expertise shows, and he is as honest and genuine as they come. Highly recommend these guys!
I. Am. OBSESSED! Ballantyne Jewelers did a great job designing my elegant, custom wedding band. The process was seamless and communication was clear. We gave them a tight completion window and they delivered early. We worked with Yuhan. He was kind and patient. We have enjoyed our experiences and have since returned to purchase another item. I hope we continue to have positive experiences with Ballantyne.
Mon-Sat: 10am - 6pm
Sun: Closed
Nearby Jewelry in Charlotte: