Gunderson's Jewelers
Gunderson's Jewelers, an independent and family-owned jewelry retailer located in Omaha, has established its esteemed reputation by consistently delivering exceptional service, quality, value, and an extensive selection of fine diamonds, natural color diamonds, precious gemstones, breathtaking jewelry, timepieces, custom design options, and exquisite gifts. Gunderson's Jewelers is one of the Three Best Rated® Jewelry in Omaha, NE.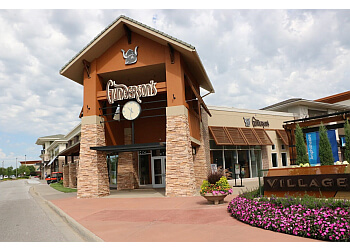 With locations spanning five states, Gunderson's Jewelers proudly holds the title of the premier jeweler in the upper Midwest region. The shop has the largest team of goldsmiths and custom designers in the Omaha area, ready to turn your dream into the perfect piece of jewelry. At Gunderson's, every piece is adorned with a handpicked diamond that boasts unparalleled quality and offers the best possible value. The shop takes great pride in its well-trained and Gemological Institute of America-certified staff, who embody the values of quality, honesty, and reliability. With their expertise, the team is dedicated to assisting you in selecting pieces that perfectly align with your taste and budget. Furthermore, Gunderson's Jewelers provides a warranty for its artistry, ensuring your satisfaction and confidence in your purchase. Additionally, they offer services for the restoration and repurposing of old jewelry, allowing you to breathe new life into treasured pieces at Gunderson's Jewelers.
Diamond Collections

Rings

Bracelets

Necklaces

Pendants

Earrings

Gifts

Custom Designs

Jewlery Repair

Watches

Engagement & Anniversary Rings
We shopped with McKenzie's assistance & she was a large part of why our experience was so very special sweet. Lovely personality, professional & still personable. Wine was a nice extra. The ring choices were a lovely variety. The store is gorgeous without being too much. Even Wayne the security guard was adorable & sweet. This was a class act on every level.
I had an extraordinary experience at Gunderson's, where I received outstanding service. Christina, the sales associate, was remarkable in helping me select the perfect watch for my 10th anniversary. Her warmth, extensive knowledge, and genuine dedication made the entire process unforgettable. She listened attentively, understood my desires, and guided me to a magnificent timepiece that surpassed my expectations. Go to Gunderson's and ask for Christina's help if you want exceptional customer service.
Excellent service, selection and quality. Cody was a perfect salesman, he really understood my taste and budget and found pieces that I hadnt considered. Cant wait to hear back from him regarding a diamond upgrade for my bride and any possibility of finding a Milgauss. Besides that, they have lots of fun pieces and I heard a new bigger location is coming soon! We cant wait to come see it.
Mon-Thu & Sat: 10am - 7pm
Fri: 10am - 8pm
Sun: 12am - 6pm