Malak Jewelers
Malak Jewelers is a well-known piece of jewelry. Malak Jewelers is one of the Three Best Rated® Jewelry in Charlotte, NC.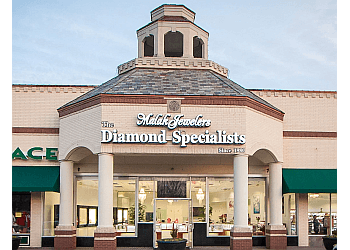 Their jewelry was established by Asaad Malak in 1980 and boasts an extensive collection of diamonds, engagement rings, and exquisite Jewelry in the Carolinas. They prioritize exceptional value and provide outstanding customer service. Malak Jewelers sources their diamonds and precious gems from various locations worldwide, including Tel Aviv and Antwerp. Alongside their impressive diamond and jewelry selection, they also offer a wide range of yellow, rose, and white gold and platinum and sterling silver pieces. What sets Malak Jewelers apart is their status as the sole jeweler in Charlotte, NC, with an extensive inventory of Indian Jewelry. Their commitment lies in providing one of the most comprehensive selections of bridal, fine, estate, and Indian Jewelry in the Carolinas. Malak Jewelers offers complimentary services such as a certificate of insurance appraisal, inspection, and cleaning. Additionally, they provide services like stone remounting, resetting, engravings, and custom-made designs. The shop also offers warranties and guarantees to safeguard your precious Jewelry. With their expertise and dedication, Malak Jewelers is fully equipped to handle your jewelry needs and create custom designs tailored to your preferences. To make their offerings accessible, they provide several financing options for customers to choose from. While Malak Jewelers strives to ensure customer satisfaction, they have a specific refund policy. They offer a 14-business-day refund period, excluding special orders or items that have been altered, damaged, discounted, financed, or put on layaway.
White

Rose and Yellow Gold

Platinum and Diamond Collections

Earrings

Pendants

Bracelets

Watches

Gemstones

Indian Jewelry

Wedding Bands and Engagement Jewelry & Custom Jewlery
The team at Malak Jewelers is amazing! I thought I found the dream ring online but had some suspicions as to how it would actually look in person. It can be unsettling making such a large purchase online without seeing, inspecting, and feeling it in person. Before pulling the trigger, Malak Jewelers was recommended to me, so I went over to check them out. I showed them a picture of the ring I had been interested in online and they had the same setting in the store! Mr. Sam assisted me in viewing and comparing different stones. I never felt pressured to purchase their diamonds and left to sleep on it. I returned the following week and purchased the perfect engagement ring! Mr. Sam was kind, friendly, courteous, and truly cared about the customer. I felt much more confident in my purchase being able to see the diamond and setting right in front of me. And guess what…they had a better price than the online retailers too! Thank you, Malak Jewelers, for helping me put together the perfect ring and for such a great purchasing experience!
I have been a client of Malak Jewelers for several years and appreciate the exceptional service and value received. Last year, I made my first big purchase, followed by repairing several pieces. Each experience has built deeper trust and appreciation. Thank you Malak Jewelers for providing elevated client service. I purchase these earrings there last year and stopped in for a nice cleaning on all three pieces. Hoping to upgrade this ring with their customization services as well!
I've been to the store a handful of times to have some custom rings made. Every single time I've walked through those doors, the environment is so cozy and pleasant. The whole team is sweet, professional, and truly cares about your satisfaction. Even if you're not buying anything, and just getting an idea for the future, they still treat you with the highest level of compassion and respect. I cannot recommend them enough, especially for custom pieces! They'll do their absolute best to get you the best pricing without compromising quality in any way. I give my thanks to each of the wonderful people of this store for all the time they have given me, and I look forward to what I can work on with them next!
Mon-Sat: 10am - 6:30pm
Sun: Closed
Nearby Jewelry in Charlotte: