Two Men and a Truck
Two Men and a Truck is a comprehensive moving company situated in Albuquerque, offering professional moving and storage services for both residential and commercial needs. Two Men and a Truck is one of the Three Best Rated® Moving Companies in Albuquerque, NM.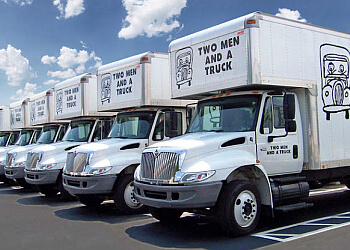 Their extensive experience in the moving industry has solidified their reputation as true experts in the field. Their range of specialized services includes local and long-distance moves, full and partial packing services, piano and single-item relocations, internal moves, and complimentary in-home consultations. The team at Two Men and a Truck comprises well-trained movers and drivers who have undergone extensive training. They are also licensed, bonded, and insured, ensuring the utmost protection for you and your valuable possessions. Their primary goal is to provide a hassle-free and stress-free moving experience, dedicating ample time to ensure customer satisfaction. By offering customized moving services tailored to individual requirements, they consistently strive to surpass customer expectations.
Local

Long-Distance

Business

Office

Home

In-Home Move

On-Site Services

Senior Moving

College Moves

Packing

Storage

Apartments

Condominiums

Across the Country

Home Staging and Rearranging Furniture

Heavy Items & Pianos
The best moving company ever. I called Two Men and a Truck and spoke with Christian because I had questions as I was filling out the online form. He was awesome and answered all my questions. He also rescheduled my appointment without any issues when I called a few days later requesting to change it. The movers (Tony and Tyson) were TOP NOTCH! They arrived on time, requested a walk through to see what they were taking (no boxes....what!?), and very respectful of my furniture and home as they navigated through doorways and around walls. They did a phenomenal job wrapping everything in plastic. The same care was also shown when they unloaded my belongings into the storage unit. They also delivered my big screen TV and stand to my current home and did so with ease. Tony and Tyson were professional, easy going, friendly, and made this move easier than I anticipated. Thanks guys.
They are great. Repeat customer here. Christian will get you set up and make your move as easy as possible. The two men who came to move me were kind , courteous, and very good at their job. Still can't believe they got that couch in such a tight area. I'm so glad I chose them again for my last ever move. I highly recommend this company.
Moved a short distance and the team was effective and professional. There was a mix up so the guys had done a previous job and were tired but they came and were nice, worked hard and got us into our new home. Can't say enough about the moving crew and how good they were. They stayed within the budget and went above and beyond to help us arrange stuff in the house. Would definitely use them again.
Mon-Fri: 8am - 5pm
Sat: 8am - 2pm
Sun: Closed
Other Moving Companies in Albuquerque: