Cornerstone Center for Early Learning
Cornerstone Center for Early Learning, established in 1969, has become a renowned institution in the field of early childhood education. Cornerstone Center for Early Learning is one of the Three Best Rated® Preschools in St Louis, MO.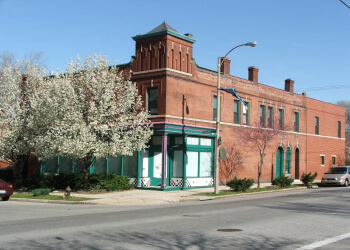 As a Licensed, Accredited, and Award-Winning center, they are committed to providing high-quality and affordable childcare. The faculty comprises exceptional individuals with expertise in child care, non-profit work, and food services, boasting a collective experience of over 30 years in early education. These dedicated professionals carefully plan activities and experiences that align with developmentally appropriate practices, setting children on a path towards future success. Cornerstone Center for Early Learning is driven by a mission to offer comprehensive and affordable childcare and preschool education in a nurturing and creative environment, catering to families of all economic backgrounds in the St. Louis area. The center boasts two secure playgrounds and a versatile indoor multi-purpose room. Additionally, Cornerstone Center for Early Learning prioritizes the integration of nature into their programs, implementing changes that bring children closer to the natural environment.
Infants

Toddlers

Two Year Olds

2 ½ – 3 ½ Year Olds & 3 to 5 Year Olds

Social

Emotional

Cognitive & Physical
My daughter is almost 3 and has been going to Cornerstone since she was 8 weeks old. My husband and I are not from St. Louis and I was very nervous and selective about who we chose to leave our daughter with. I am so grateful we found Cornerstone! Every single teacher we have had was/is outstanding and they truly care for my daughter. They have a number of employees, mostly teachers that have been there for 10 and 20+ years and I think that says a lot about the organization. This is the best daycare around and I recommend them to everyone I know.
We send our son here and we our proud to be apart of the cornerstone family. He has made strides since he has been here. They are not like other daycares they don't just watch the kids the teach them and it starts in the infant room. We can't say enough about them. They treat you like family and truly care about your child, it starts from the top down. Classroom are super clean. The playground is huge and safe. There is enough teachers in each room they even have floating teacher to give breaks. It also is well diversed. All in all if you are looking for a place to send your child I would look no further this is the only place I will send my children.
Amazing daycare!! My daughter is 2 1/2 and been going there since 6 weeks old and absolutely loves it, the teachers and staff and so do I. They know us by name, greet us everyday and take such great care of my Princess. I highly recommend this center for your child.
Infant/Toddler Programs: $350 per week
Twos Program: $315 per week
Junior Preschool Program:
age 2 children: $315 per week
age 3 children: $205 per week
Preschool Program: $205 per week
Enrollment Application Fees:
full-pay families: $100
Mon-Fri: 7AM - 5PM
Sat & Sun: Closed
Nearby Preschools in St Louis: