C2 Education of Charlotte
C2 Education of Charlotte combines test prep, tutoring, and college admissions coaching into personalized plans guiding students toward dream college acceptance. C2 Education of Charlotte is one of the Three Best Rated® Tutoring Centers in Charlotte, NC.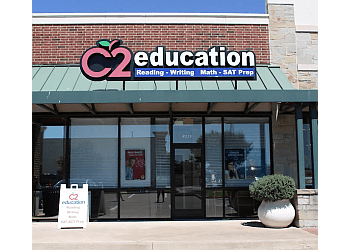 They offer customized test preparation programs to students in all grades and skill levels and extensive in-person tutoring services for all subjects and levels, from kindergarten to high school.C2 Education's academic teams offer a complete program, including customized tutoring, test preparation, and college admissions counseling services designed to help students achieve their educational goals. They create fully customized programs that build on students' strengths while addressing their weaknesses and offer personalized test prep programs for students of all grades and skill levels. With C2 Education's tutoring programs, students benefit from a flexible learning environment and personalized attention from a team of experts.
Writing

Kindergarten to 12th Grade

Test Preparation

ACT

SAT Prep

Paraphrasing

Homework Help

Middle and High School

English Languages

Literature

Grammar

Literary Analysis

Maths

Elementary-School

Geometry

Comprehension & Reading Tutoring
I made an appointment with this company to find out if they would be able to assist my elementary school daughter. The front death was really nice however, it was the center's director, Megan, that was phenomenal as formation point because of her amazing background in education commas she was able to pinpoint the needs of my daughter without hesitation. She was also able to give insight and advice on how to get my daughter's school to be more accountable for her educational needs. She was very honest and informing me that she believed that my daughter's needs would not be well met at her center, however, she was very helpful in giving additional information on how to get my daughter the help that she needs. I think it is amazing the amount of integrity that she showed in respect to not taking money for a service that she did not feel my child would not benefit from. She knew that my child would be better suited for a 1 to 1 tutor and not in a setting with older students. She was so compassionate and helpful. I certainly would refer anyone to them based on the level of care, dedication, ethics, and kindness they have.
My son has received great tutoring at C2. It has served as support for both testing & current classes especially during online learning. Their schedule is convenient and the communication is superb. Every one is friendly and helpful. The tutors, to put it lightly, seriously know their stuff and have an ability to explain the material so that he absorbs it. I'm grateful to have this entire team.
C2 is super helpful and I really enjoy working with the tutors they are super nice and helpful and they really explain the lesson in a way I can understand. I really enjoy working with destiny and Jacob. The way Destiny works with me really shows that she cares and she enjoys helping me. She is also super fun to work with and i can relate to her a lot. Jacob he is just amazing. He is always so positive and he really shows he enjoys working with me!
Mon-Thu: 1pm - 9:30pm
Sat: 9am - 5:30pm
Fri & Sun: Closed
Nearby Tutoring Centers in Charlotte: