Dr. Stella Fulman, AuD - Audiology Island
Dr. Stella Fulman, AuD - Audiology Island is one of the Three Best Rated® Audiologists in New York, NY.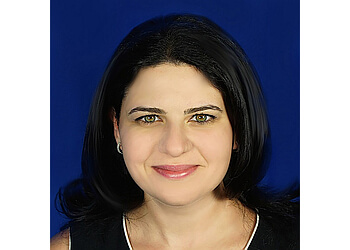 Dr. Stella Fulman, AU.D., CCC-A, obtained her Bachelor's and Master's degrees in Audiology from Brooklyn College in 2004 and completed her Doctorate of Audiology at Salus University in 2008. She initiated her audiology career by serving as a research assistant on a significant FDA study funded by a one-million-dollar grant. Dr. Fulman possesses extensive expertise in diagnostics and a deep understanding of the most advanced hearing aid technology, enabling her to effectively fit even the most difficult patients. Additionally, her dedication to collaborative patient care and a fresh perspective contribute significantly to her exceptional role as an audiologist today. Audiology Island provides professional and experienced audiology and hearing aid services for people of all ages. Audiology Island is dedicated to practicing a gold standard in hearing healthcare for children and adults. Their diagnostic hearing evaluation service consists of various tests to determine the unique aspects of their patient's hearing loss. Audiology Island specializes in superior diagnostics and the most advanced rehabilitative methods to develop the best customized rehabilitative solutions. They offer in-office repair services. They provide pediatric and adult audiology, multi-line digital hearing aid dispensing, and individual and group aural rehabilitation services. They conduct auditory training programs for their patients. Here, an online hearing test is available.
Diagnostic Hearing Evaluation

Balance/Fall Risk Assessment

Tinnitus Evaluations and Treatment

Earwax Removal

Hearing Care for Children

Cochlear Implants

Custom Hearing Protection

Aural Rehabilitation

TeleCare and TeleAudiology & Auditory Processing Disorder
From the booking of the appointment to the actual appointment, everything was wonderful. The receptionist was very polite and professional. Dr. Fulman was very nice and professional. Would highly recommend.
I needed to schedule an emergency appointment and they got back to me within minutes! I emailed after hours and was able to schedule a next day appointment. Dr. Fulman was kind, personable, and quick to resolve my issue. Highly recommend this practice.
Fantastic experience. Went in for an ear cleaning and I can finally hear again!! Everyone was extremely helpful and friendly and I would recommend to anyone!
Mon-Fri: 8:30am - 5pm
Sat & Sun: Closed
Nearby Audiologists in New York: