Dudley's Driving Center Inc.
Dudley's Driving School was founded with the objective of offering secure and expert driving education to drivers in Hampton Roads, VA. Dudley's Driving Center Inc. is one of the Three Best Rated® Driving Schools in Newport News, VA.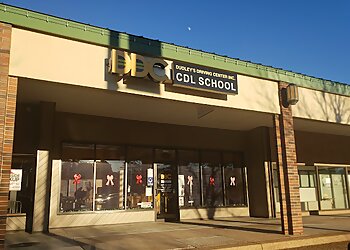 They serve hundreds of students annually and have gained the trust of both adults and teenagers for their courteous, patient, and safe driving practices. They teach individuals of all ages and abilities, placing a strong emphasis on safe driving practices. Furthermore, their instructors provide guidance on how to react appropriately to real-life driving scenarios, such as tailgating, skidding on rain/ice, going off the road, and the proper use of the ABS braking system. Upon the completion of the 36-hour course, students receive a certificate of completion for classroom training. Dudley's driving center inc. provides a professional business location for independent contractors to conduct their business in a professional environment with the assistance of secretarial services.
40 Hour Refresher

Private Lessons

50 Minute Periods

Drivers Improvement (In-Class/ Online Classes)

Behind the Wheel Lessons on the Road

8 and 36 Hours of Classroom Instruction

Wavier Program

Teens and Adults Drivers Ed & Re-Examination Course
Mr. Dudley Sr. and Mr. Hall are great drivers education teachers. Mr. Dudley taught me how to pass the permit/drivers test by giving me important information to study for the test and successfully pass. Mr. Hall is a great behind the wheel teacher who helps you build confidence behind the wheel. I am very thankful to these two gentlemen. I am now a confident driver. Thank you!
The owner is an very interesting person to talk with. Very knowledgeable in his field of training; professional and he has a sense of humor. He was a great help to me. I was very satisfied in the choice I made in choosing that driving school.
Great experience, my instructor was nice, calm, and a overall great time, highly recommended to further you driving.
1 Hour Session (1 on 1 Training) $150
Driver's Education Classroom
36-Hour Classroom Instruction - $350
Online - $100
8-Hour Classroom Instruction (adults) - $250
Teen (with Experience – 3 to 6 Months) $350
Teens (no Experience) $450
Adult $550(Five Lessons Package)
Adult $650(Seven Lessons Package)
Mon-Sat: 9am - 5pm
Sun: Closed
Nearby Driving Schools in Newport News: