Top Notch Driving Schools Inc.
Top Notch Driving Schools Inc. Top Notch Driving Schools Inc. is one of the Three Best Rated® Driving Schools in Newport News, VA.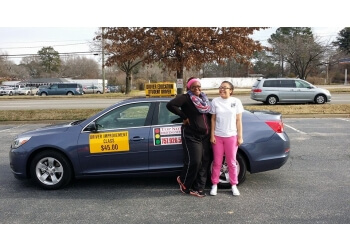 is a reputable and well-established driving school approved by the Virginia Department of Motor Vehicles and affiliated with the National Driver Training & 3A Method Driving School. Their team of driving instructors comprises individuals with law enforcement experience and access to military bases. The school has two regularly maintained, state-inspected, automatic transmission cars equipped with dual brakes. Top-Notch Driving School offers online and in-person driver improvement courses that are licensed and certified by the Virginia Department of Motor Vehicles. In addition, they offer free home/school pick-up and drop-off services for local students. Students can also request to use their school vehicle to take the road test at DMV to obtain a driver's license.
Behind-the-Wheel

Driver's Manual

Re-Examination Course

Driver Improvement Courses

One-On-One Lessons

Road Skills Test

Adult Waiver

50-Minute Periods

Teen License

60-Minute Periods

DMV Service & 30-Hour Classroom
Thank you for helping me to get my drivers permit. You are a great teacher. See you soon for my driving lesson!
Mr. Smith is very knowledgeable about driving laws and is patient with students. Would recommend for driving lessons.
Amazing driving school!!! definitely recommend! mr.smith helped me become more comfortable on the road.
Online Driver Improvement Clinic $70
Online Driver's Manual Course $100
Online Driver Education Course $150
Teen Behind-the-Wheel Course $350
Adult Behind-the-Wheel Course $400
Driver Improvement Clinic $70
Driver's Manual Course $100
Escort Vehicle Driver Certification Training $110
Mon, Wed & Fri: 9am - 3pm
Tue & Thu: 12pm - 6pm
Sat & Sun: Closed
Nearby Driving Schools in Newport News: