Happy Feet Pet Sitting
Happy Feet Pet Sitting, located in Sacramento, is a dependable and reputable service that specializes in dog walking and pet sitting. Happy Feet Pet Sitting is one of the Three Best Rated® Dog Walkers in Sacramento, CA.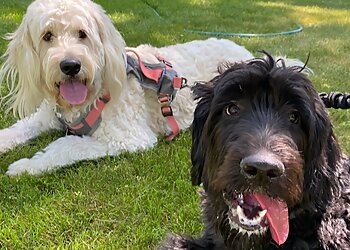 Karen, the owner, ensures that the business maintains high standards. With proper licensing, insurance, and bonding, Happy Feet Pet Sitting has established a strong foundation. Their expertise in dog walking and in-home pet sitting has been honed over the years. The company offers a comprehensive range of services, including potty breaks, litter box maintenance, daily walks, mail collection, and watering. Additionally, they provide weekday group outings, individual walks, and check-ins for added convenience. Happy Feet Pet Sitting proudly serves Sacramento and the neighboring cities.
30 Minutes Group Walks

20 and 30 Minutes Individual Walks

Check-Ins

Veterinary Visits

Overnight Pet & House Sitting
Karen has helped us from day 1! We adopted our dog Roscon and within few days had to go on a trip. It was a very stressful situation having to figure out who could take care of our puppy when everyone we knew was going on this trip. I came across Happy Feet Pet's website and quickly contacted Karen. Because of the short notice I was expecting to be turned down but Karen responded to our request in less than an hour. She helped us with overnight pet sitting and walks. During our entire trip she kept us posted on our Roscon and made us feel at ease knowing he was in good hands. After that, she has continued to help us with walks and check-ins. Roscon gets very happy every time she comes in! Karen is always very flexible with our walks schedule and even help us with reinforcing Roscon's training. We do 30-min walks and we are now starting to work in group walks. Roscon and both my husband and I are very grateful for Karen! If you need help finding someone you can trust with caring for your dog when you're away, Karen hands down should be your option. Thank you Karen for being so amazing with Roscon.
Karen and her staff are top notch pet sitters! I've used Happy Feet Pet Sitting since 2019 and have relied on them for when we've traveled out of town and for when I needed extra assistance with cleaning up after my cats following a leg injury. She is trustworthy, friendly, incredibly dependable & communication is seamless. I recommend HFPS to anyone looking for a pet sitter who provides excellent care and devotion to your beloved pet!
Karen has taken fantastic care of our dog Luther since we moved here in 2016. She walks him during the week and stays with him when we are out of town--we are so lucky to have found her! She takes such good care of Luther (and our home!) when we're out of town, and it's so easy to communicate with her when we need to adjust our schedule. I would highly recommend Happy Feet Pet Sitting for any of your pet care needs!
Nearby Dog Walkers in Sacramento: