Atomic Plumbing & Drain Cleaning
Atomic Plumbing & Drain Cleaning is a trusted provider of comprehensive plumbing services catering to both residential and commercial customers. Atomic Plumbing & Drain Cleaning is one of the Three Best Rated® Plumbers in Virginia Beach, VA.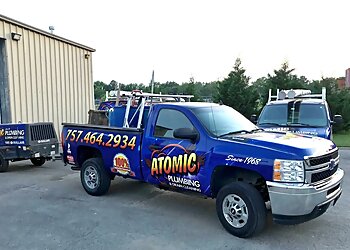 Founded by James F. Lane in 1968, the company has built a strong reputation over the years. Their team is committed to providing prompt and cost-effective service, equipped with seven fully stocked trucks to efficiently address your needs. With a combined service experience of 155 years, their skilled technicians are well-trained and certified to deliver a wide range of plumbing solutions. Atomic Plumbing & Drain Cleaning prioritizes a seamless customer experience and employs cutting-edge technologies for the design, types, and installation of plumbing systems. They exclusively hire experienced and promptly certified technicians, ensuring the highest level of expertise. Moreover, they offer military discounts as well as $50 worth of free plumbing for referrals, demonstrating their commitment to customer satisfaction and loyalty.
Residential

Commercial Plumbing

Water Heaters

Sewer Lines

Dishwasher

Drain Maintenance

Garbage Disposals

Backflow Meters

Leak Repairs

Underground Line Locating

Faucet and Fixture

Root Removal

Emergency Services

Toilet Installation

Gas Leaks

Internal Pipe Cleaning & Repair
Scott arrived at my house on time. He respectfully listened to me explain what my problem was and he diagnosed the problem quickly. He gave me two options with the cost for each option. I asked his opinion on which option was best and he made his recommendation. I agreed to his recommendation and he quickly arranged for a smaller drain cleaning device to be delivered to the job site. Zack arrived with the device, helped snake the drain and helped remove the device. Both Scott and Zack did their best to keep my home clean and left the work area spotless. Scott tested the drain multiple times before completion. Scott P. and Zack are true professionals and are valuable company assets! It was a pleasure dealing with Atomic Plumbing and I highly recommend their services.
We had a great experience working with Ryan at Atomic Plumbing today. He made a stressful leak under our house so much less stressful with his tenacity and good humor. He had it fixed and everything back up and running in no time. On top of all this, we had other contractors at the house today and Ryan worked well with everyone and was exceedingly patient and calm through it all. We are grateful to have found a good plumber! We know who to call next time!
Scott P, with the assistance of Joey and Josh, completed some major plumbing work on our home last week, replacing a pipe under our slab foundation. Scott and team kept our minds at ease, informing us of the work they were doing with smiling faces. They demonstrated great consideration, notifying us in advance when the work was going to get loud or water was to be turned off. They made sure that the dust and debris was confined to their work area. Scott even detected and repaired a leak we weren't aware of, saving us from future issues. The work was completed in a timely manor for a reasonable price. Scott, Joey and Josh did a fantastic job. Thank you so much Scott, Joey and Josh for all of your hard work. Thank you Atomic Plumbing for sending us your best. We appreciate you all!
Mon-Sat: 7am - 6:30pm
Sun: Closed
Nearby Plumbers in Virginia Beach: