Academia De Mi Abuela
Academia de Mi Abuela is an early childhood education center and preschool in Oakland, CA, specializing in Spanish/English dual language and cultural immersion. Academia De Mi Abuela is one of the Three Best Rated® Preschools in Oakland, CA.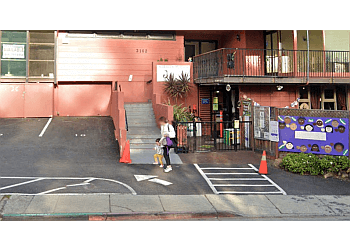 Cynthia Mendez Reimann is the owner of this preschool, where the teaching philosophy is built upon the nurturing of family values, fostering enjoyable and meaningful learning experiences, and creating a multicultural atmosphere. The curriculum at Academia de Mi Abuela is designed to expand your child's worldview by integrating cultural learning through music, dance, art, and comprehensive lesson plans. With a commitment to affordability and high-quality language immersion childcare, this preschool caters to Oakland families, including under-served communities within the city.
Teamwork

Talking and Listening

Creative and Aesthetic-Development

Dance

Gardening

Communication Skills

World Knowledge and Understanding

Mathematical Awareness

Personal Development

Science

Mathematics

Yoga

Cooking

Play

Music Appreciation

Physical Health & Emotional Development
My son went to AMA and now my daughter is going. They both LOVE it!! The teachers are amazing, they truly care and LOVE the children. To me, this is what matters the most when you are sending your children for the first time to child care. I'm so grateful to them for being so considerate and loving for my children. Seeing my daughter signing all those in Spanish songs is so amazing !
My son loved Academia de mi Abuelo. He was so excited to go every day and I credit them for his interest in and knowledge of colors, shapes, letters and TORTUGAS! He is very passionate about turtles lol.
My 9 year is a graduate, has the fondest memories of it, was very ready for K coming out of the AMA program and speaks Spanish fluently. My two year is currently a student and loves it just as much.
School Tuition:
YOUNG PRESCHOOLER PROGRAM:
2-3 years old/Part-Time Rate, 8:00AM-4:30PM: 2 days per week=$1,000.00/month
3 days per week=$1,200.00/month
YOUNG PRESCHOOLER PROGRAM:
2-3 years old/Full-Time Rate, 8:00AM-4:30PM: 4 days per week=$1,800.00/month
5 days per week=$2,000.00/month
SENIOR PRESCHOOLER/TK PROGRAM:
3-4 years old/Part-Time Rate, 8:00AM-4:30PM: 2 days per week=$900.00/month
3 days per week=$1,100.00/month
SENIOR PRESCHOOLER/TK PROGRAM:
3-4 years old/Full-Time Rate, 8:00AM-4:30PM: 4 days per week=$1,700.00/month
5 days per week=$1,900.00/month
Discount
10% Off Sibling Discount for Preschool Students
Mon-Fri: 7am - 6pm
Sat & Sun: Closed
Nearby Preschools in Oakland: