Broadway Children's School of Oakland
Broadway Children's School is one of the oldest and most significant preschools in Oakland. Broadway Children's School of Oakland is one of the Three Best Rated® Preschools in Oakland, CA.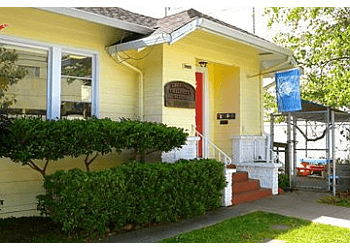 The preschool has been serving the Oakland community for more than seventy years. At Broadway Children's School, they embrace the philosophy that each child is unique and special, fostering an environment that nurtures individuality and allows children to thrive within their own framework of development. The preschool offers an exciting and creative atmosphere where children can engage in playful and interactive learning experiences. Their preschool program is designed for children aged around 3 years and continues until they are ready to transition to the Rainbow Room class. Additionally, Broadway Children's School of Oakland provides snacks for the children in their care.
Science

Field Trips

Fine

Gross Motor Skills

Understanding

Teamwork

Self-Help Skills

Aesthetic

Social Skills

Scientific Thinking

Literacy

Creative

Personal

Social

Emotional Development

Communication

Talking

Listening

World Knowledge

Mathematical Awareness & Physical Health
We started at Broadway Children's School in the PACT program when my daughter was 2, and she and I made some lovely friends. By the time she was ready for 3yr old preschool, she was so comfortable and happy to be at Broadway that there's never been a problem with separation anxiety and she loves to go to school. It was such a gentle introduction to her being a little more independent from me. She loves her teachers and they are always coming up with sweet things for the children to do. Every day there is art, stories, outside time, and a variety of interactive stations set up for busy kids to explore. A personal favorite was the dolly-washing station with little tubs of water with sponge, rubber duckies and bubbles. For myself as work part time the scheduling flexibility has been so helpful! There are many different options and I've been able to choose one that works perfectly for me and add on more care as needed. 100% recommend :)
We relocated for work. Broadway and staff have been so welcoming and quick to reply. It's play bases and fun! Our daughter loves it! She runs in when we arrive and is immediately ready to play and learn!
This is a wonderful preschool! All three of my kids attended. Give them a look. Best in the Town!
Two-day (Tu/Th) program $4,500 per year
Three-day (M/W/F) program t $6,250 per year
Five-day program $10,615 per year
Mon: 9am - 11:59pm
Tue-Fri: 12am - 3:00 am|9am - 11:59pm
Sat & Sun: Closed
Nearby Preschools in Oakland: