Daisy Child Development Center
Daisy Child Development Center is dedicated to creating a nurturing and secure environment where children aged 18 months to 6 years old can thrive. Daisy Child Development Center is one of the Three Best Rated® Preschools in Oakland, CA.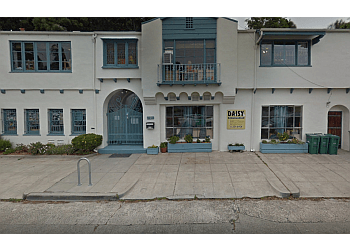 With a license to accommodate up to 71 children, the center is led by Feyrouze Chunara as the director. The teachers and staff at Daisy Child Development Center are passionate about their role in educating children and appreciate the creativity, humor, and kindness they bring to the learning process. They prioritize a play-based approach, fostering a community that encourages meaningful relationships, problem-solving skills, and keen observation of the environment. Following the STEAM Transitional Kindergarten program, the preschool provides a well-rounded education. Additionally, Daisy Child Development Center offers enrichment programs tailored to different age groups, including activities such as yoga, soccer, Spanish language instruction, and carpentry.
Kinderboost

Spanish

Soccer

Fall Festival

Field Trips

Reading

Yoga

Music

Movements

Dance

Library

Communication Skills

Writing & Dramatic Play
Our kiddo will be graduating from Daisy this Fall after a year and a half there. We have been so grateful for them! They have been the perfect place to transition to Kindergarten. I am absolutely blown away at how much my kiddo has learned there! Fey has so much experience in teaching and it really shows. Irfan, the director, has such patience and empathy for us parents. I really appreciate how they correct kiddos, gently and compassionately. So sad our kiddo has to leave but they are sending him to his next stage competent and confident.
We have had two kids at Daisy and I cannot say enough good things about Irfan, Fey, and the other teachers. Not only are they amazing for the kids, in a beautiful tiered lot with goats and chickens, but they have been incredibly flexible with us as parents as well. They are affordable, conveniently located, caring, and all around amazing!
My older daughter attended Daisy for 2.5 years and loved it. They have a lovely large space with 3 yards and include STEAM (science, tech, engineering, arts, math) TK. She was more than ready for kindergarten afterwards. My younger daughter is still currently attending and loves it as well.
Full Day:(7:30am-6:00pm) Preschoolers:
5 days/week: $1725
4 days/week: $1520
3 days/week: $1345
Half Day:(7:30am-12:30pm)Preschoolers:
5 days/week: $1345
4 days/week: $1195
3 days/week: $1035
Mon-Fri: 7:30am - 6pm
Sat & Sun: Closed
Nearby Preschools in Oakland: